Posted by David Reed on 06/30/2017
PAN AM DC-7 CARGO ROUTES ADDED

   In the early 1960's Pan Am was jumping all in for the jet age with orders for 707's and DC8's. The recently purchased DC-7's were still fresh and in this they saw an opportunity to seriously expand their fledgling cargo operation. Dedicated cargo planes were rare at Pan Am, but now they had the DC-6B's and the DC-7's available and these were put into cargo service within five years of being delivered new. Most of these aircraft we sold after about four years in the freight business, replaced by the new jet freighters. For a brief period in time though, these pristine Douglas's enabled Pan Am to generate serious income to help purchase the new jets that would be Pan Am's future. We added routes from Miami to El Salvador, Nicaragua, Cost Rica, Panama, Haiti and Venezuela. From London we fly to Lebanon, Italy and France. Listed as the DC-7BF, you can use your DC-7CF or DC-6BF on these routes, for substitutions were not uncommon. Look for textures for the DC-7BF on Flightsim.com this week!
SEVEN SEAS IN THE SOUTH PACIFIC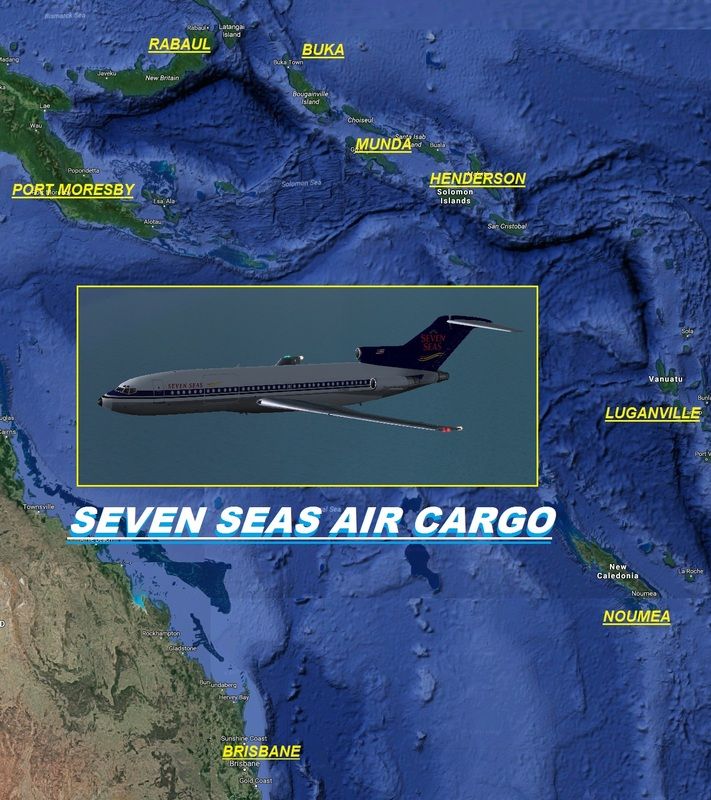 Our very own cargo airline, Seven Seas Air Cargo, has just added a new area of operations. Seven Seas (SSA) is now operating a 727 from Brisbane, Australia to points in the south pacific region. We acquired a 727-77QC from Australian Cargo and took over several routes recently abandoned by the majors. Our flights will carry passengers for the first time, up to 40 people and 40,000 lbs of cargo. Flights leave from our hub in Brisbane and go to Port Moresby. From here we fly to Rabaul and Buka, then back to Port Moresby. Or, we fly to Henderson and Munoa and back to Port Moresby. Another flight leaves Brisbane and flies east to Noumea, then up to Luganville and back to Brisbane. Some of these airports will be a challenge with the 727, so bring your skills and your bathing suit to the sunny South Pacific!

  NORTHWEST DC-7C ROUTES UPDATED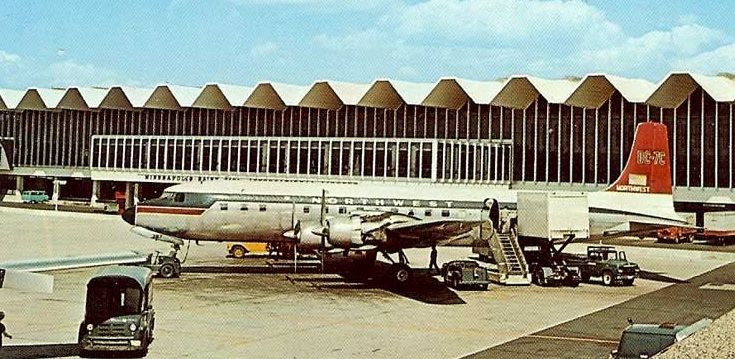 We just updated the schedules for the Northwest DC-7C. These flights are from 1961, a time when Northwest was starting to take deliveries of the DC-8 but still considered the Douglas DC-7 the gold standard. Imperial Service was the First Class ticket to the world, and many flights were still booked as First Class passengers only. A First Class ticket from New York to Tokyo cost $753 in 1961, which when adjusted for inflation is $6158 today. It took 23 hrs to get there with one stop in Anchorage. Today the same trip would run on an A319/B777, take 16 hrs to get there with a single stop, and cost $5540. Our adjusted schedule include nonstop flights from New York to Detroit, Chicago, Seattle and Anchorage. Other new flights fly to Milwaukee, Minneapolis, Spokane, Portland, Washington DC and of course Tokyo. Climb aboard a Northwest DC-7C and enjoy the luxury of Imperial Service today! No TSA checkpoints!

FAUCETT-PERU JOINS HAG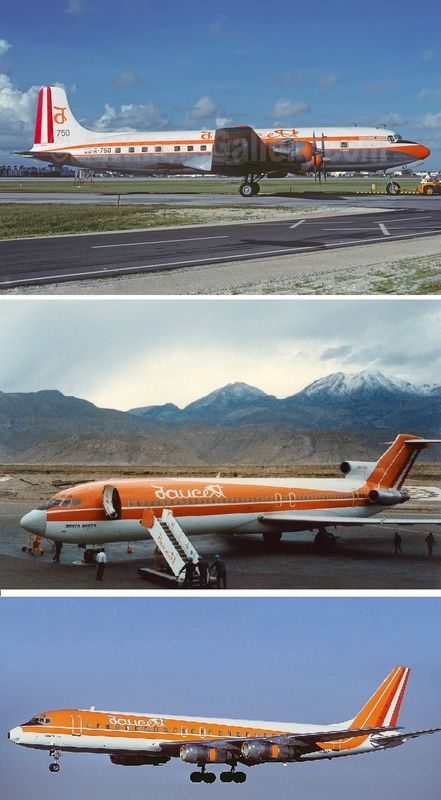 We just added the Peruvian airline Faucett Peru. Faucett started in 1928 as Peru's first airline, they enjoyed steady growth and prosperity. Starting with Stinson F19's, after WW2 they graduated to surplus C-47's and DC-4's. In the early 1960's they acquired their first DC-6B from Panagra. Braniff became a part owner in 1973 with 19%. They added ex-Braniff DC8-50's and Boeing 727-100/200's. In the 1990's financial problems brought an end to Faucett-Peru, being liquidated in 1999. Our routes focus on domestic flights originating from their homebase in Lima, with some trips going into gravel runways in the mountains. We also have DC8 flights to Miami. We have flights with the DC-6B, DC8-50 and B727. Textures for all three are available at HJG and Flightsim. For some very challenging and scenic flights, it's hard to beat Faucett. Try a flight today! 

LAN-CHILE SCHEDULE UPDATED 


     We have just updated some of the LAN-Chile schedules. Basically, we put the DC-3 and DC-6 flights in order. These flights leave Santiago and make multiple stops. When arranged in order, you can more easily select the flights in sequence.We also added a DC-6 route, Santiago to Punta Arenas in southern Chile. In 1932 LAN-Chile began commercial service, and in 1947 they were the first airline to provide service to Punta Arenas, the southern-most city on Chile's continental land. Non-stop service began with the introduction of the new Douglas DC-6. Textures available on Flightsim. If you haven't yet tried a flight with LAN-Chile you should. The terrain ranges from coastal to mountainous to jungle, with flights to new and exciting destinations. Try LAN-Chile today!

NWOA STRATOCRUISER SCHEDULE UPDATE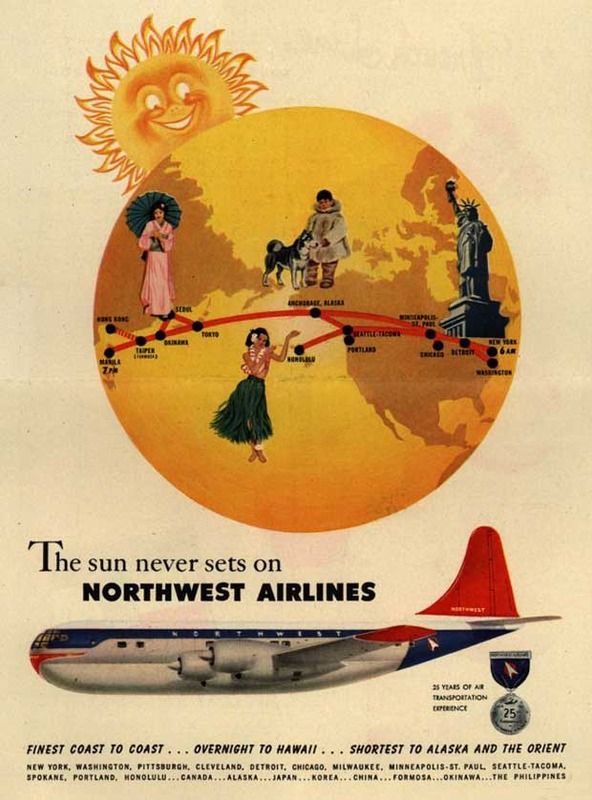 We just updated the Far East schedule for Northwest Orient Airlines. We now have a flight that leaves New York Idlewild for Chicago Midway at 7:00 AM. From there it continues to Seattle, Anchorage, Tokyo, Okinawa and Manila, arriving at noon the next day. The return trip leaves Manila at 1:00 PM, stopping in Okinawa, Tokyo, Anchorage, Seattle and Chicago before arriving in New York at 5:45 PM the next day. Bring a book!

PANAM STRATOCRUISER SCHEDULE UPDATE 

     Pan American Airways B377 Stratocruiser schedules have been redone. We dropped the Alaskan service and added San Francisco to Honolulu, continuing on to Wake Island, Tokyo and Hong Kong. In the Atlantic we changed to flights to non-stop from Boston to London-Gatwick, and added London to Frankfurt. PanAm set a luxury standard due in part to the lengthy enroute times. Almost all flights were exclusively First Class. Ten years after introducing the Stratocruiser, PanAm began trading them in on new Boeing 707's.

NORTHWEST ORIENT STRATOCRUISERS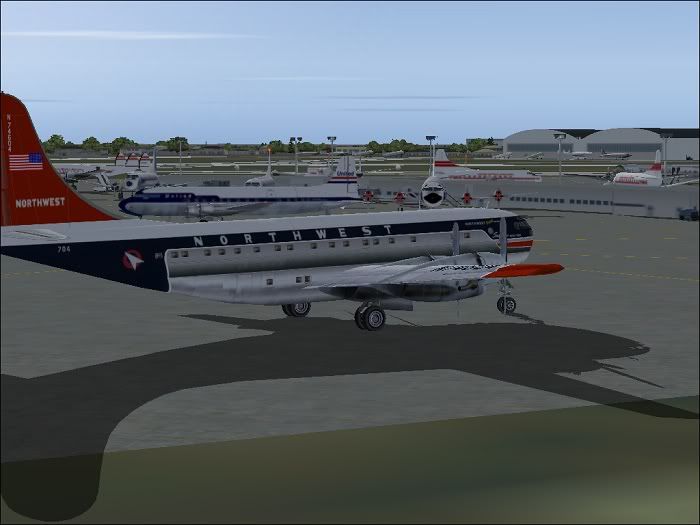 Northwest Airlines introduced the new Boeing 377 Startocruiser in 1949. Just two years previous they had opened their new routes to the Orient using the Douglas DC-4 and began advertising themselves as Northwest Orient Airlines. Problems with the big Boeings surfaced almost immediately. The Startocruiser was far from economical, its four P&W R4360's burning 145 octaine fuel at 540 gals per hour. Maintenance costs were sky high and reliability low. As a result, it rarely turned a profit, dubbed a passenger's dream, an accountant's nightmare. By 1956 all of the Orient flights had been moved to the Constellation and DC-7C's. Though they burned nearly as much fuel, they could carry more passengers and were tremendously more reliable. Northwest Stratocruisers were relegated to domestic routes, primarily Seattle, Minneapolis, Chicago, Detroit and New York. When jets arrived, Northwest was quick to trade their Startocruisers in on new equipment, selling the last one in 1960. The Stratocruiser was for Boeing and the airlines that flew them, a learning experience.  

KLM PROPS OVER EUROPE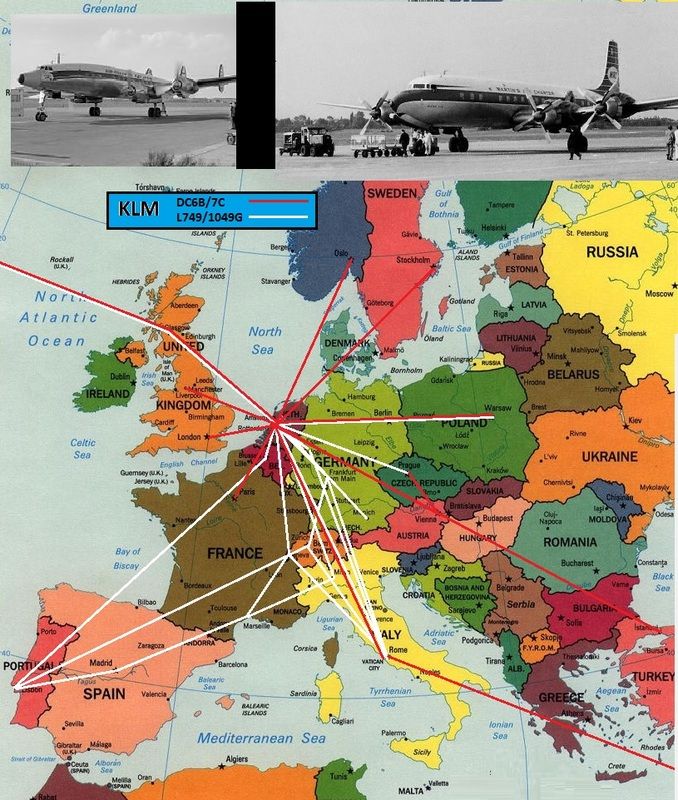 KLM is a major player at the Historic Airline Group. Legally Koninklijke Luchtvaart Maatschappij N.V., is the flag carrier airline of the Netherlands. Douglas and Lockheed played a large role at KLM, providing them with their early long range and high capacity aircraft. The DC4 established their first routes to New York for a European airline after WWII, followed closely by the Constellations and Douglas DC-6B and DC-7C. These four engine aircraft made KLM a major airline in Europe, and they ranged far and wide carrying the flag. At HAG, we focus on the European destinations as well as the flights to New York, Boston and the Middle East. 

FEDEX EUROPEAN HUB ESTABLISHED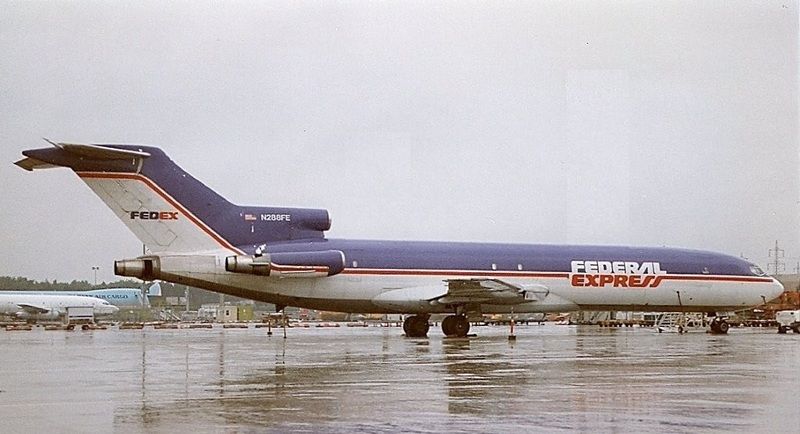 HAG has added FedEx's Cologne, Germany hub to our operations. FedEx recently moved from Paris to Cologne as their central and eastern European sorting center. Using a 727-200F, we have added routes from Cologne to Stuttgart and Milan, Lyon and Marseille, Ostrave and Belgrade, Copenhagen and Linkoping, and Dresden. Go to HJG for the classic 727F in original FedEx purple and enjoy the late night fun of flying freight. All flights are under an hour, easy on your flight sim schedule.

SEVEN SEAS ACQUIRES A DC-8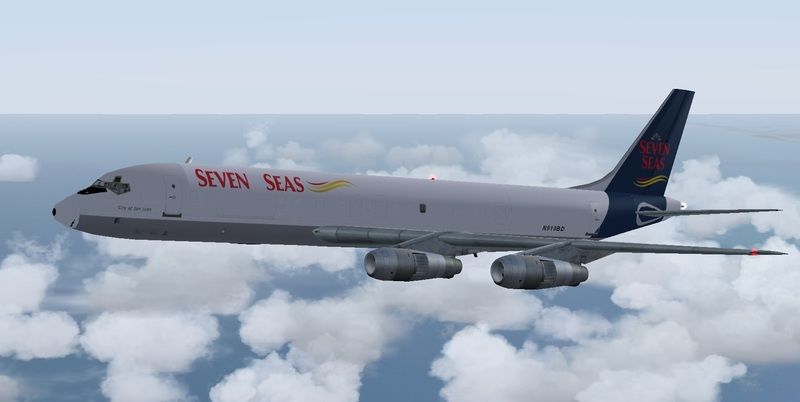 HAG's own cargo airline, Seven Seas, will be adding a DC-8 soon! This DC8-55F will be used to carry freight from Miami to points throughout the Caribbean. Capable of carrying 93,000 lbs, the DC8-55F can fly up to 2665 nm. ABX Air in Wilmington OH has just completed heavy C & D checks as well as avionics upgrade including ADS-B out and SatWx install. Registered N910BD, this newest addition to the Seven Seas fleet will begin service this weekend. Look for textures on Flightsim.com (sevenseasdc8.zip). Seven Seas (SSA) currently operates the Piper Chieftain, D-18S, CV340 and DC-9 out of Miami and San Juan on scheduled air cargo service.

AIR CALIFORNIA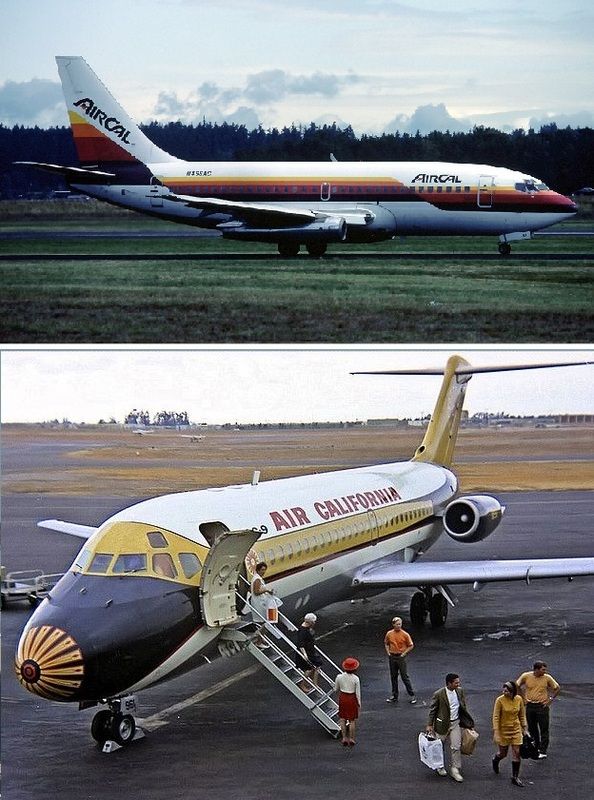 Air California, later known as Air Cal, was founded in 1967 as an intrastate airline using two Lockheed Electra's. Later they added a pair of DC-9's but in 1969 they began changing to an all Boeing 737 fleet. Later they added seven MD-80's and six BAe-146's. The BAe-146 allowed Air Cal to operate into noise-sensitive Orange County Airport. Air Cal competed with PSA in the California market with San Jose as their main hub. American Airlines needed an established west coast route structure like Air Cal had, so in 1987 AMR bought Air Cal and made the owners fabulously rich! HAG has added twenty four flights using the DC-9 and B737 from San Jose to Oakland, Burbank, San Francisco, Palm Springs, Ontario and San Diego.
COCKPIT CHRONICALS

 There are new stories in our own Cockpit Chronicals. Just click on the link on the right and enjoy the stories from forty plus years of commerical aviation.

JAPAN AIRLINES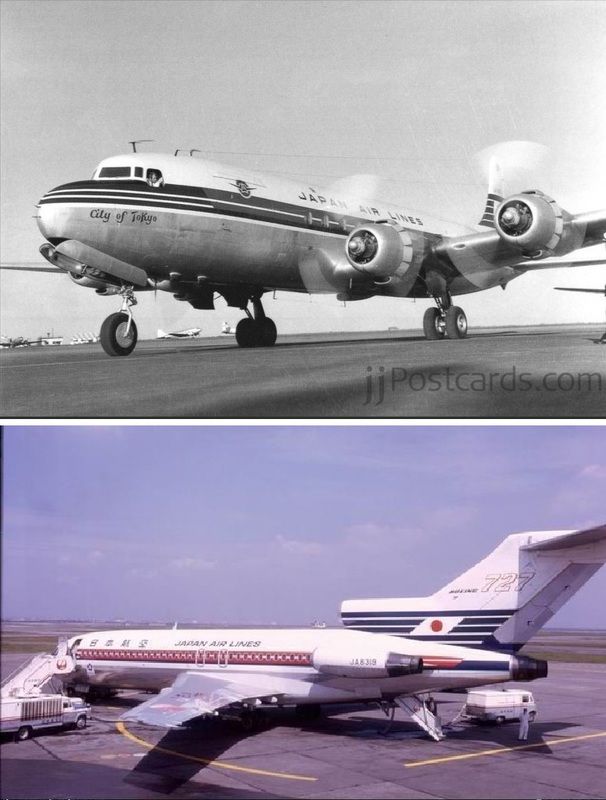 Japan Airlines started shortly after World War II as part of the rebuilding program the United States was supporting along with the Japanese government. Initially they started with a Martin 202 that was leased, with crew, from Northwest Orient Airlines. However one year later it crashed into a mountain enroute to Tokyo. Undaunted, JAL purchased several DC-4s from military surplus and began flying national routes. In 1954, at great expense, they purchased several DC-6B aircraft and began service to San Francisco through Midway Island and Hawaii. As business improved, they stayed with Douglas through the DC-7C and DC-8. In the late 1960's the last DC-4s were traded in on new 727-100's, marking a shift from Douglas to Boeing equipment. We have added twenty new flights to include the DC-6 and the B727 in our current JAL fleet of aircraft. Enjoy the luxurious service of Japan Airlines! 

CAYMAN AIRWAYS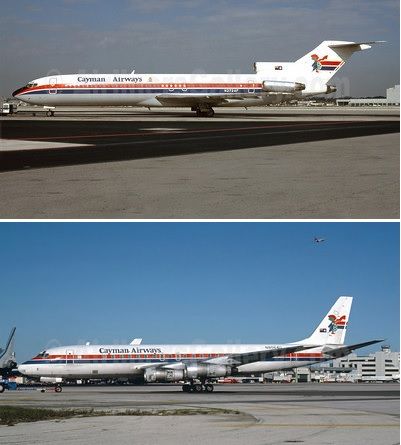 Cayman Airways started in 1968 when the Cayman government bought it from LACSA. They started with a single DC-3 and later added a DC-6. Fairly quickly they went into jets with the BAC 1-11/500, connecting Grand Cayman with Miami, Houston and Kingston. Later they traded the BAC 1-11 aircraft for two Boeing 727-200's. A single DC-8 was leased in the 1980's and eventually these aircraft were replaced with 737's. Here we have created flights for the 727 and DC8 to Miami and Houston, and 727 service to nearby Cayman Brac. When the first 727 landed at Cayman Brac, they actually touched down on the small beach, bounced up and landed on the runway pavement. After dropping off passengers at the small wooden terminal, they powered out of the small ramp and totally destroyed the control tower with the jet blast. Your HAG President worked in the Cayman's and learned this first hand!

SAS OVER THE NORTH POLE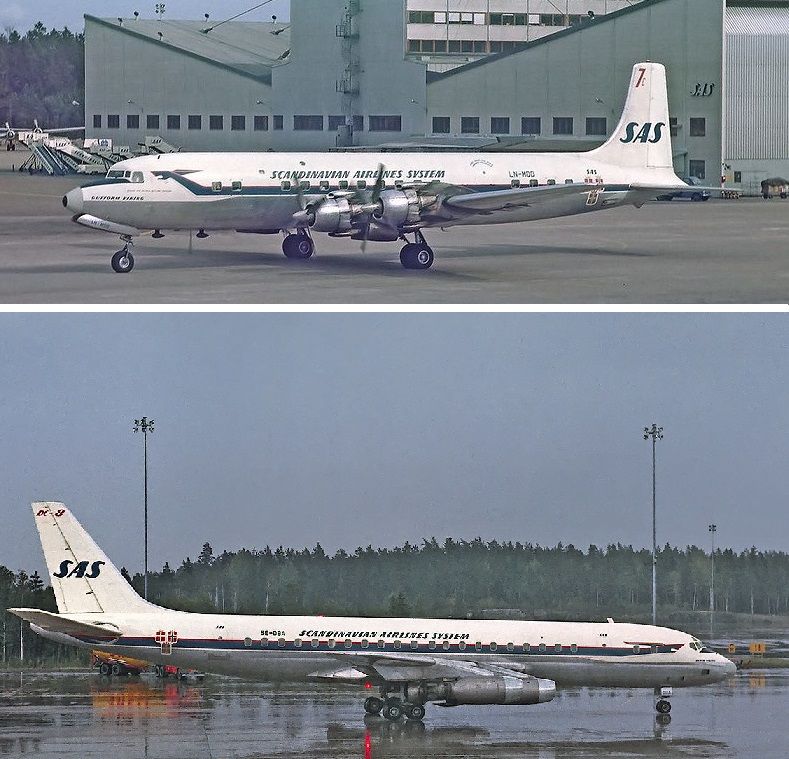 Scandinavian Airlines has always had its eye on the international market. In November 1954 SAS began service to Los Angeles from Copenhagen via Greenland and Winnepeg CA with a DC-6B. In February 1957, SAS began using its new DC-7C from Copenhagen to Tokyo via Anchorage. In 1959 SAS started flying jets, with the SUD Caravelle, which flew mostly European routes. In May of 1960 they bought their first DC-8-33 aircraft and began non-stop flights to New York and Montreal, and one stop Polar flights to Los Angeles and Tokyo. HAG has entered these flights for those with long haul flights on their mind!

OLYMPIC AIRWAYS

 Olympic Airlines had a rocky start. Originally called Icarus, it started in 1930 but never saw 1931. After World War II there were three airlines in Greece, but they all had a poor reputation for safety and reliability. The government merged all three into one called TAE in 1951. By 1955 TAE was in dire financial straits and the government sold the airline to Aristotle Onassis, a multi-millionaire in the shipping business. Mr Onassis changed the name to Olympic Airways and immediately began a modernization program with orders for 13 DC-6B's. In 1959 Olympic ordered four Comets to bring them into the jet age. They also signed a codesharing agreement with BAE. In 1965 they ordered 15 Boeing 707/720's and 12 727s to replace their Comets. This move tripled their revenue. In 1970 they ordered ten YS-11s to replace the last of the DC-3s and DC-6Bs. Unfortunately, the Greek government always remained a part of Olympic Airways management and as their debts increased, so did the airline's debts. Several attempts at taking the company private failed and eventually in 2009 the airline was closed for good.AT HAG we have flights for the DC-3, DC-6B, YS-11, Comet and 727.