Heading out to get a donor. This is a person who is clinically brain dead and the family has agreed to the organ donation process. Many things get used including heart, lungs, kidneys, liver, skin, eyes, you name it. You won't see a picture of a donor here though. Patient privacy still applies. This donor turned out to be a large, heavy man. Took some doing getting the stretcher into the airplane, and off again later! Usually these trips last around 6-7 hours, from show time to return. When we get to where we are getting the donor, my copilot and I usually go get something to eat. This day we went to Bass Pro Shop and got fish and chips at their restaurant.
My cute as ever copilot, Rachel. Such a darn good pilot!
One of the team members, Dominique. The other team member is Nicole. Yep, I'm the only guy on this flight.
This is the newest member of our fleet, just arrived today. Brand new, straight from the factory, only 8 hrs total time! Its a KingAir 350i with the new touch-screen avionics in it. This is a company-owned airplane, very similar to our medical KingAir 350i.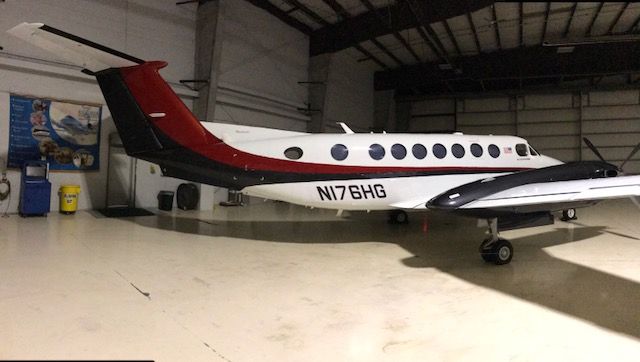 Flew from St Louis to Springfield MO, a quick 50 min flight. Lots of rain and clouds enroute, but most of the time we were between layers. Went up to FL200 initially, then right back down to 14,000 looking for a smoother ride. At Springfield it was all rain and clouds so we flew the GPS approach to runway 20.
Six hours later, at about 9 pm, we took off in the fog for St Louis. Smooth ride back at FL190, flew straight in to the ILS 8R at KSUS. Pretty foggy, got the runway in sight about 3/4 mi out.
Here we are about to go in the hangar after the flight. I like this airplane, it's like a Toyota. Runs and runs, never breaks, never a problem. Unlike the Toyota though, she'll cruise at 345 mph!