Posted by David Reed on 07/15/2018
BEECH 18 IN LUTON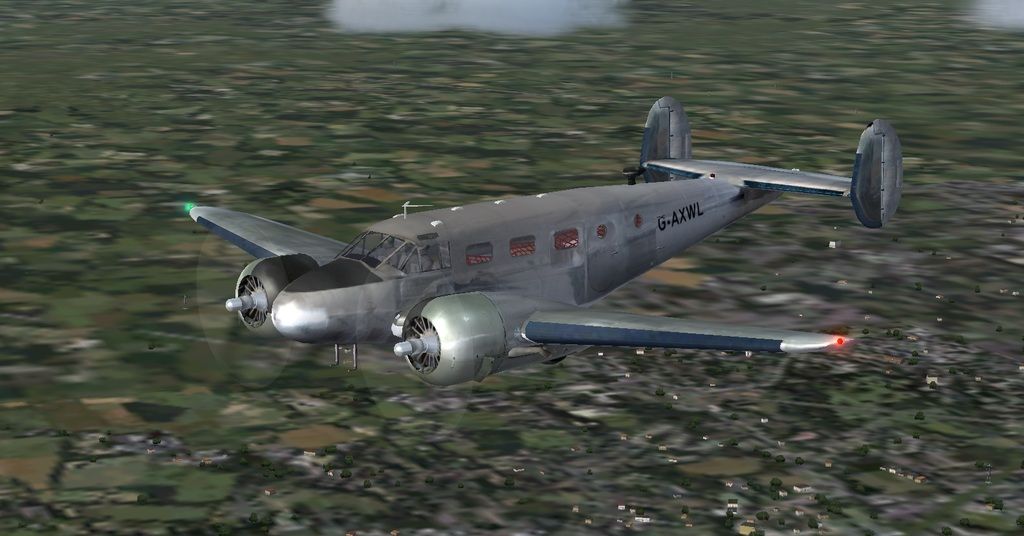 The Beechcraft Model 18, or Twin Beech, had a long and varied history. In the 1950's it was the premier corporate aircraft. In the 1960's and 1970's it was the airplane to have if you wanted to get into the air freight business. There were many mods, including larger fuselage and turbine engines, but in the 1980's there were issues arising. The wing spar had issues when mods were made, so an expensive spar cap had to be installed and the spar inspected frequently. They weren't getting any cheaper to maintain, so the Twin Beech was retired. Today they are just starting to rise in value as a classic collector piece. At HAG we use them for passenger and cargo flights. Here we see G-AXWL enroute from Luton to Swansea, an hour and a half flight with an assortment of time-sensitive cargo.

NEW CARGO FLIGHTS AT OPA LOCKA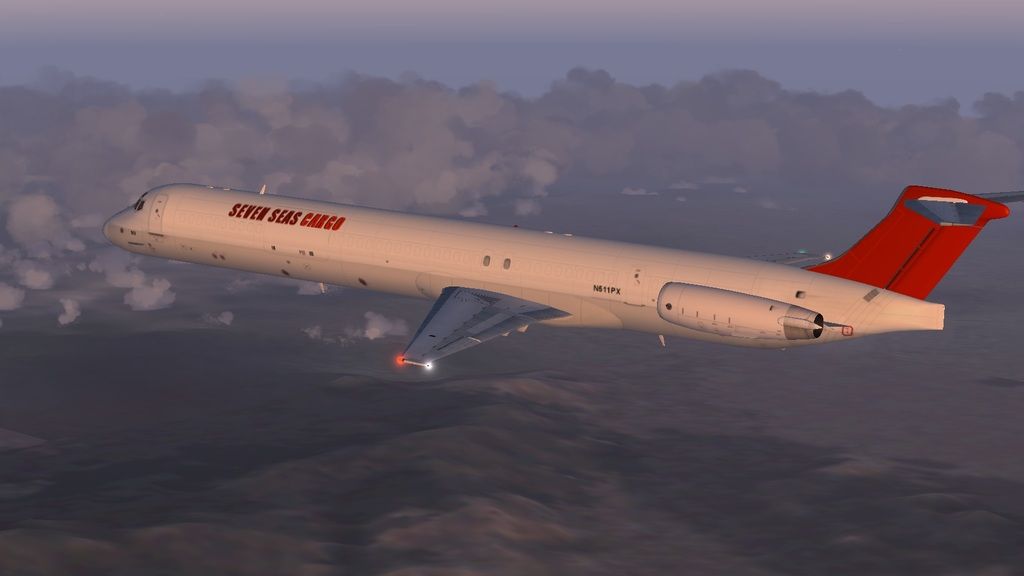 Opa Locka Airport (KOPF) has a fair amount of TAL cargo flights from the Caribbean. Now you can connect to a Seven Seas MD80F, with three new daily flights: Toledo, Winston-Salem and Houston (with a stop in Dallas on the way back). These are under contract with Trans Air Link. Enjoy!
THE EASTERN AIR SHUTTLE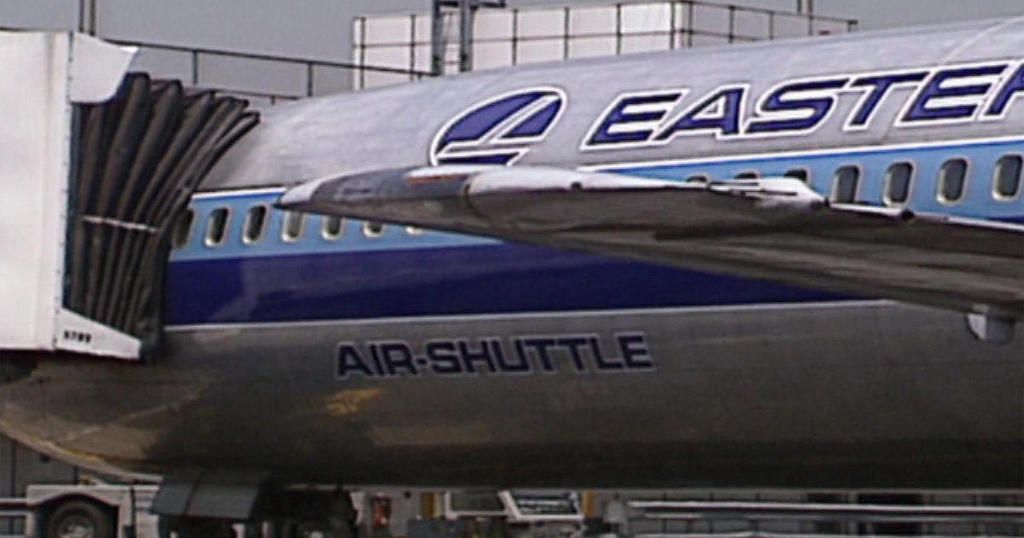 Eastern Airlines inaugurated Eastern Air Shuttle service on April 30, 1961 with a 95 seat Constellation L1049. Flights left New York's LaGuardia Airport every hour from 0700-2200 daily, flying to Boston and Washington DC. No ticket, no boarding pass, no seat assignment, no TSA. Just go aboard and pay in the air. If the seats were filled, another aircraft was rolled out. A one-way ticket from NY to Boston cost $10.75. That's $92.60 in today's price, far less than today's $287 cost! On Thanksgiving 1961, the final 10 PM flight between New York and Boston carried 623 passengers on seven aircraft. DC-7B's were added for flight from Newark. In 1965 the first Lockheed Electra joined the Shuttle, but eventually all were replaced by 727's and DC-9's. In 1988 it became the Trump Shuttle, then in 1992 the USAir Shuttle. Today it is known as the American Shuttle. Shuttle flying was unique because it was an orchestra of repetitive. Same gates, same crews, same routes, same everything. In many ways it was an easy gig, for you became real familiar with every detail and this can make for a very comfortable place to be.
FLIGHT OF THE WEEK ADDED

I'd love to have a random flight selector program here, but without the knowledge to know how we'll just have to try something different. Every week we will post a Trip of the Week. You can find it on the About Us tab, above. Your goal is to complete the trip as close to scheduled times as possible. You don't have to do every leg all at once, you have a week to do it. The key though is accuracy. Leave on time, arrive on time. No reward (yet), but just the satisfaction of knowing you can keep a schedule
ALLEGHENY CONVAIR ROUTES ADDED

We just added some Convair routes to the Allegheny system. Using their 1965 timetable and originating in Washington DC, these workhorses earned their keep in the Northeast and Middle Atlantic regions. Allegheny Airlines had 27 CV440's, which were eventually converted to CV580 with Allison engines. An additional 13 CV580's were added to the fleet. We have four trips for the new Convair Captain. One trip leaves Washington DC and flies to Harrisburg, Williamsport, Bradford, Jamestown and Buffalo. On the return flight it operates from Buffalo to Bradford, Newark, Hazleton, Harrisburg and back to Washington DC. Another flight starts in DCA and flies over to Salisbury, Cape May, Atlantic City, Philadelphia and back to DCA. Another flight leaves Pittsburgh for Wheeling, Parkersburg, Huntington and back to PIT. There is also a flight that does two round trips, one to New York and one to Providence. Do these in sequence and experience the life of a Convair crew!

ALLEGHENY DC9 FLIGHTS ADDED

We have added DC9 flights for Allegheny Airlines (ALO) out of Buffalo and Washington DC. Allegheny would fly to Buffalo from its hubs in BWI and PIT, then from Buffalo they would fly non-stop to eight cities including Dayton, Albany, Boston, Detroit, Hartford, Indianapolis, Minneapolis and Washington DC. From Washington DC you can grab a flight to Boston, Providence, Syracuse or back to Buffalo.
SEABOARD WORLD UPDATED, EXPANDED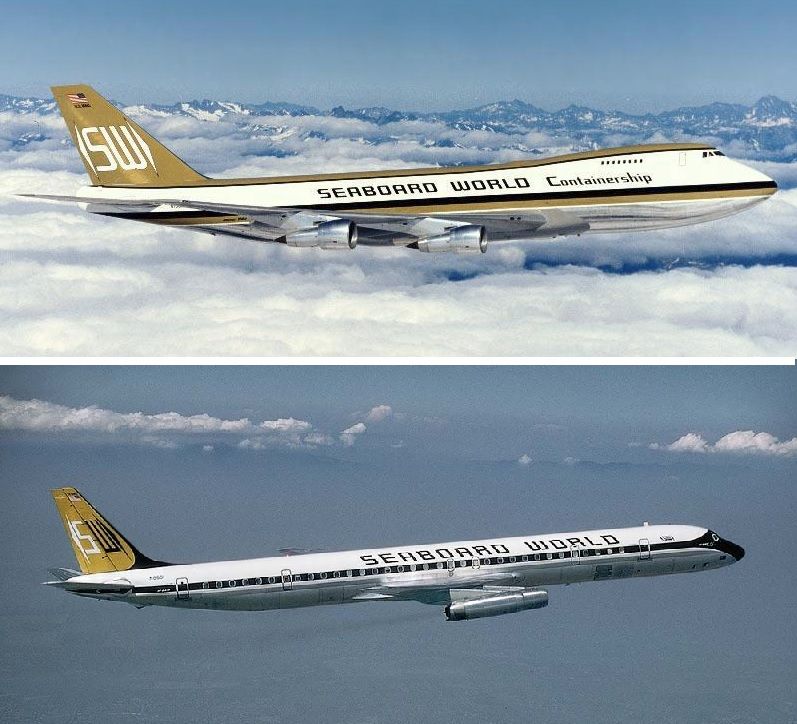 Seaboard World Airlines is a cargo carrier based at New York Kennedy Airport. It was founded in 1946 by Arthur & Raymond Norden, veterans of the WWII Air Transport Command (ATC). Seaboard World had many "airline first's": First airline to fly cargo across the Atlantic; first airline to fly from Idlewild(JFK); first airline to fly a MATS charter; first airline to operate cargo versions of the Constellation/DC8/B747; first airline to equip its entire fleet with inertial navigation system (INS 1970). In 1960, under new management, the company parked all of its DC4's and Constellations, replaced with the CL44 and DC8. This put the company back into profitability. In 1974 the first 747 freighter entered service with Seaboard. In 1980 they merged with Flying Tigers and in 1988 Flying Tigers merged with FedEx, where the DC8's and 747's were retired. Throughout it's long history, Seaboard World never had a single fatality. At HAG we have Seaboard World CL44 flights in Europe. We added 747F and DC8-63F flights from Los Angeles, Chicago, Toledo and Detroit to their hub in New York, then from JFK to London, Amsterdam, Paris and Frankfurt.

PACIFIC NORTHERN UPDATED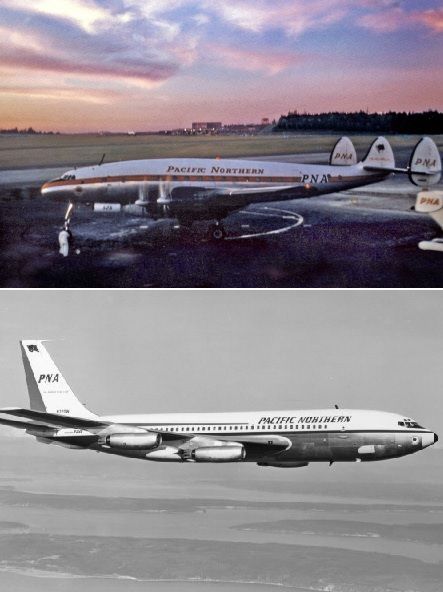 We just did a major update for Pacific Northern Airlines. This Alaskan airline is represented with their 1958 schedule using the L649, and in 1965 with their Boeing 720. PNA was definitely a local arline loved by the customers. The Connie was an L649 model with the SpeedPak for extra cargo. You can use the CalClassic L749 instead, the differences were fairly minor. They either hopscotched down the penninsula to and from Seattle, or they flew direct to & from Anchorage or Kodiak. In Alaska air travel often involved smaller aircraft, with their weight and passenger limitations. PNA's Connie brought big airline service to the smaller communities, while the numerous enroute stops improved the bottom line. The Connie was perfect for this role, for it was a reliable and capable aircraft. Pacific Northern even served meals on the longer legs, though one source described it as "mystery meat covered in thick gravy." In the early 1960's PNA wanted to be a player in the new jet era, and bought some Boeing 720's that suited their needs for the smaller communities. They also got some Lockheed Electras, but the glamour of a four engine Boeing jet won out. The 720 may have been a bit of a stretch for PNA though, for not long after, in 1967, Western Airlines bought Pacific Northern, giving them more of the 720's they wanted plus the routes to Alaska. Western Airlines had no interest in serving the smaller communities, and service to them went to Alaska Airlines and Reeves Aleutian.
ALLEGHENY ROUTES ADDED IN PITTSBURGH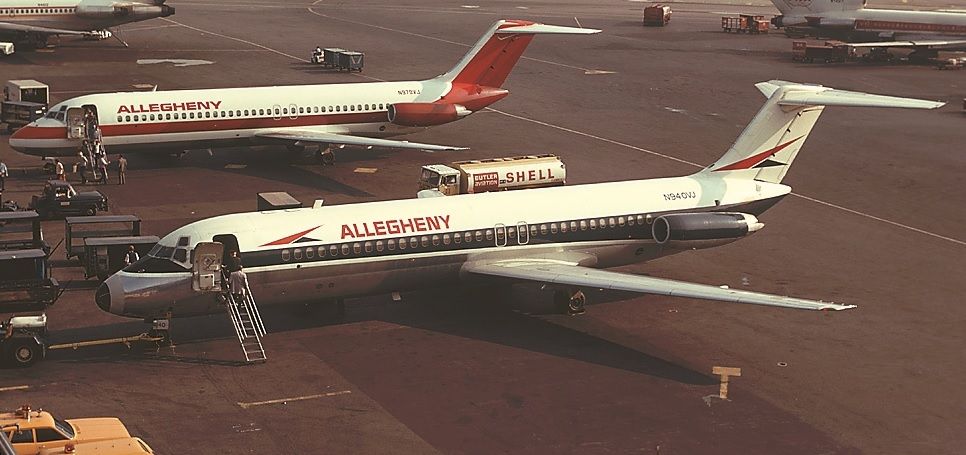 We are expanding Allegheny Airlines (ALO) with 36 new flights in and out of Pittsburgh, based on their 1969 timetable. Pittsburgh was a big hub for Allegheny Airlines. Two major players in Pittsburgh for Allegheny in 1969 were the BAC1-11's and DC-9's. You'll find all kinds of good flying here, including flights to smaller regional airports as well as major airports like Newark and Boston. Allegheny Airline DC-9's & BAC1-11's were normally configured as a single class layout, but with better legroom than you find today. I personally had an interesting flight on Allegheny once, just look for "Hero" in the Cockpit Chronicals.

ANSETT DC-6B ROUTES ADDED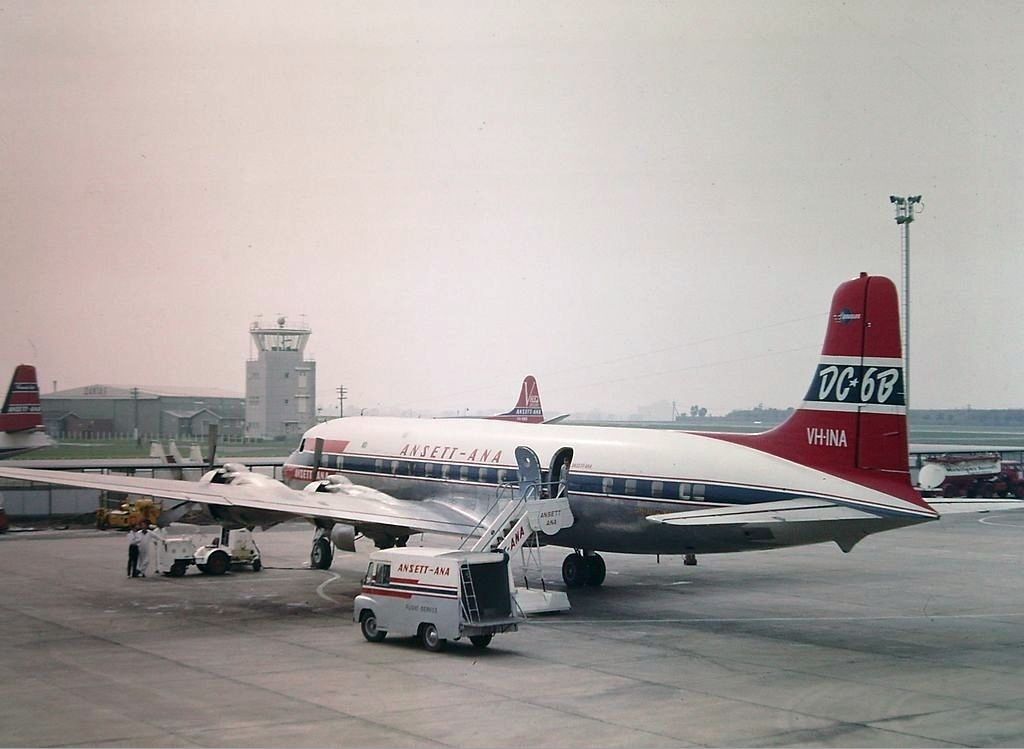 We just reviewed Ansett's DC-6B flights and added new destinations, including Adelaide, Perth, Canberra, Launceston and Melbourne. In Australia after the war, the airlines were strictly controlled by the government. As a result, ANA's initial order of four DC-6's in 1946 was vetoed by the government. In 1953 TAA ordered new Viscount aircraft, so ANA was allowed to add new equipment too. Instead of ordering Viscounts, ANA ordered four new DC-6B's and two used DC-6's. The DC-6B's were a winner, configured to carry 58 passengers and four tons of freight, compared to the Viscount's 44 passengers and two tons of freight. The DC-6 had longer range than the Viscount, too. Whereas the Viscount needed to reduce the passenger load on its longer range flights, the DC-6 had no such restrictions. However the loans required to purchase the DC-6's were a debt ANA could not afford in the long run. In 1957 they merged with Ansett to become ANA-Ansett. In 1959 Ansett took delivery of it's new Lockheed Electra II's, and the DC-6's were moved to more regional routes. The trustworthy DC-6 served Ansett until 1966 when the last one was retired.

FLORIDA FREIGHTERS: AGRO C97G IN MIAMI

AGRO Air Associates is a Miami-based company that was created for leasing aircraft. AGRO operated a fleet of 11 DC-8's as cargo freighters, but they were unique in that for a short time they operated two converted C97G freighters. Powered by four Wasp-Major R4360 engines, the ex-USAF C97G could carry 37,500 lbs of freight.  The type proved to be very maintenance intense though, and parts were often non-existent, so AGRO went with the DC8. We are using the AGRO as though it had been more successful, with six destinations including Kingston, San Juan, Belize City, San Jose, San Pedro Sula and Santo Domingo. Look for textures soon on FlightSim.

FLORIDA FREIGHTERS: TRANS AIR LINK IN OPA LOCKA

We have just expanded Trans Air Link's operations in South Florida. In addition to the flights out of Miami, we have added six flights each for the DC-6F and DC-7F out of Opa Locka Airport. These flights deliver freight to various destinations in the Caribbean. One flight goes to South Caicos and North Caicos in the Bahamas. These airports will be a challenge for the average Douglas pilot. Normally TAL will depart North Caicos for Miami with an empty airplane, which will certainly help your takeoff performance. Textures for the TAL DC6F are available on FlightSim now, and textures for the TAL DC7F will be available soon.

ALLEGHENY AIRLINES!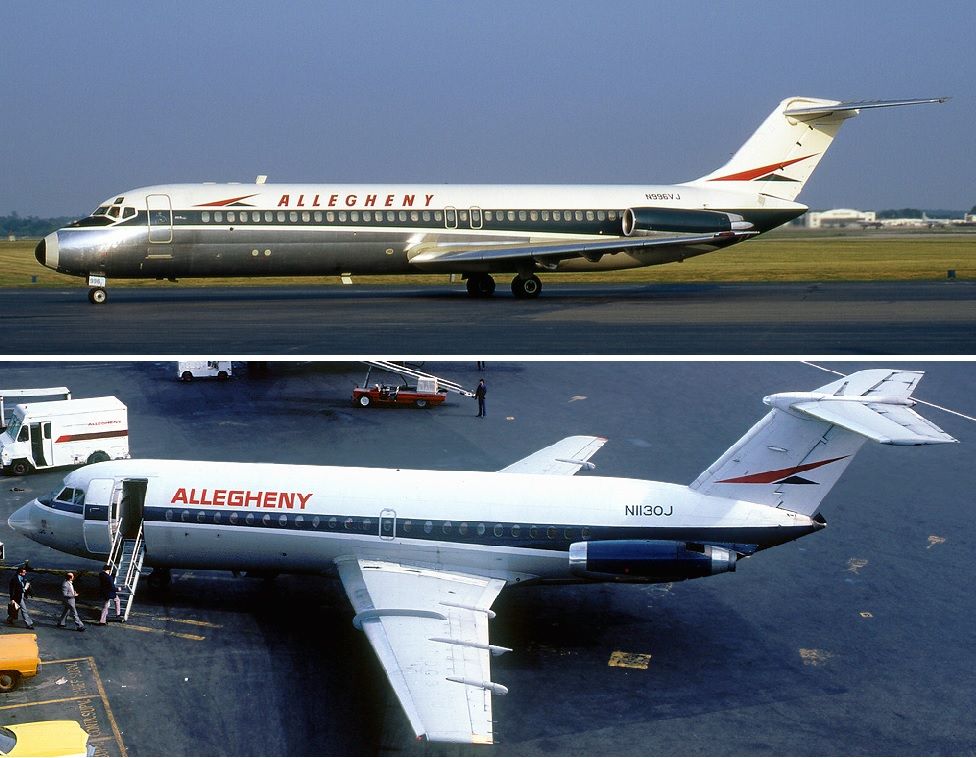 Several years ago we considered adding Allegheny Airlines (ALO), but decided against it because all of the routes were already being flown by several other airlines. This week though I was looking to expand our operations at Baltimore-Washington Airport (KBWI). We don't have that many flights, mostly United and American. Baltimore has a long and colorful history in the eastern US, and I felt they needed to be better represented. Allegheny Airlines was always profitable, with a firm presence and reputation in the very lucrative eastern US market. While other airlines often dropped smaller cities as they grew, Allegheny always remained true to their customers and the cities that made them successful. We are representing Allegheny in the early 1970's. The DC-9 30-Series came on the scene in 1966, bringing greater revenue. At their peak they operated 89 DC9-30's. In 1972 Allegheny bought Mohawk Airlines, acquiring 31 BAC 1-11 jets in the process. In 1979 they changed their name to USAir, and in 2015 they were bought by American Airlines. However for many years they were the dominant airline at Baltimore/Washington International Airport. We have added six round trips for each aircraft. The BAC 1-11 flies to Boston, Charleston WV, Cincinnati, Indianapolis, Pittsburgh and Syracuse. The DC9 flies to Clarksburg WV, Toledo, Erie PA, Buffalo, Burlington VT and Chicago/O'Hare.


UNITED AIRLINES 727 ROUTES ADDED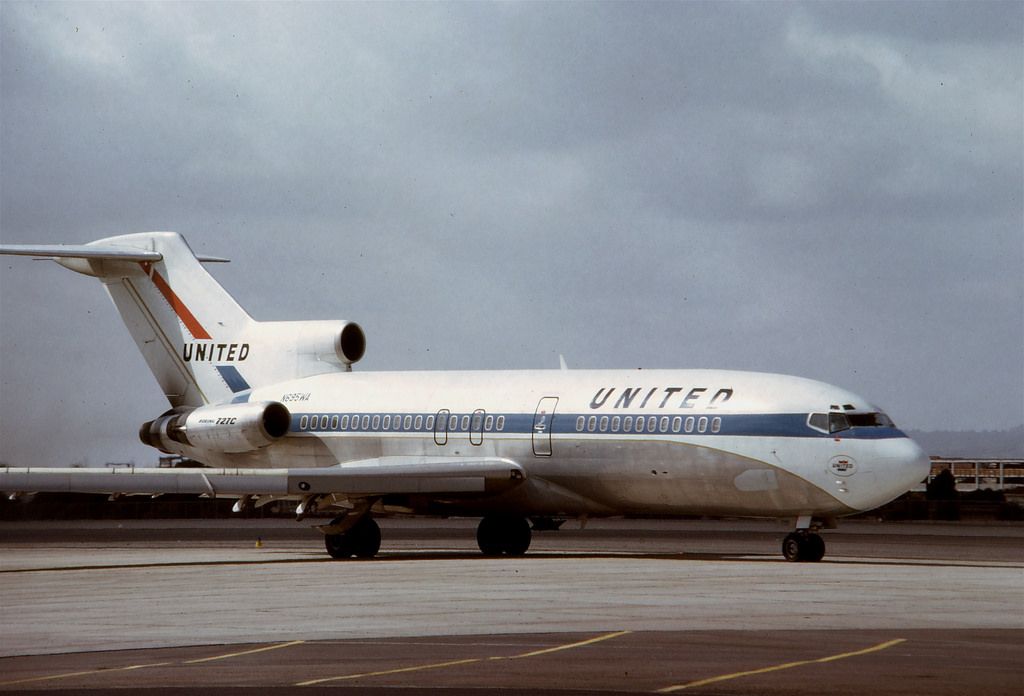 We have just finished reviewing the United Airlines 727 flight schedule and have added 12 new round trip flights, including Baltimore to Omaha; Buffalo to Chicago and Washington; Chicago to Denver, Minneapolis, Philadelphia & Richmond; Denver to Milwaukee, Salt Lake City & San Francisco; and Detroit to New York. The first 727 ever built was delivered to United in 1963. The last United 727 revenue flight occurred in March 2003. For forty years the iconic Boeing 727 was the flagship of the United fleet!

ALASKA AIRLINE L-1649A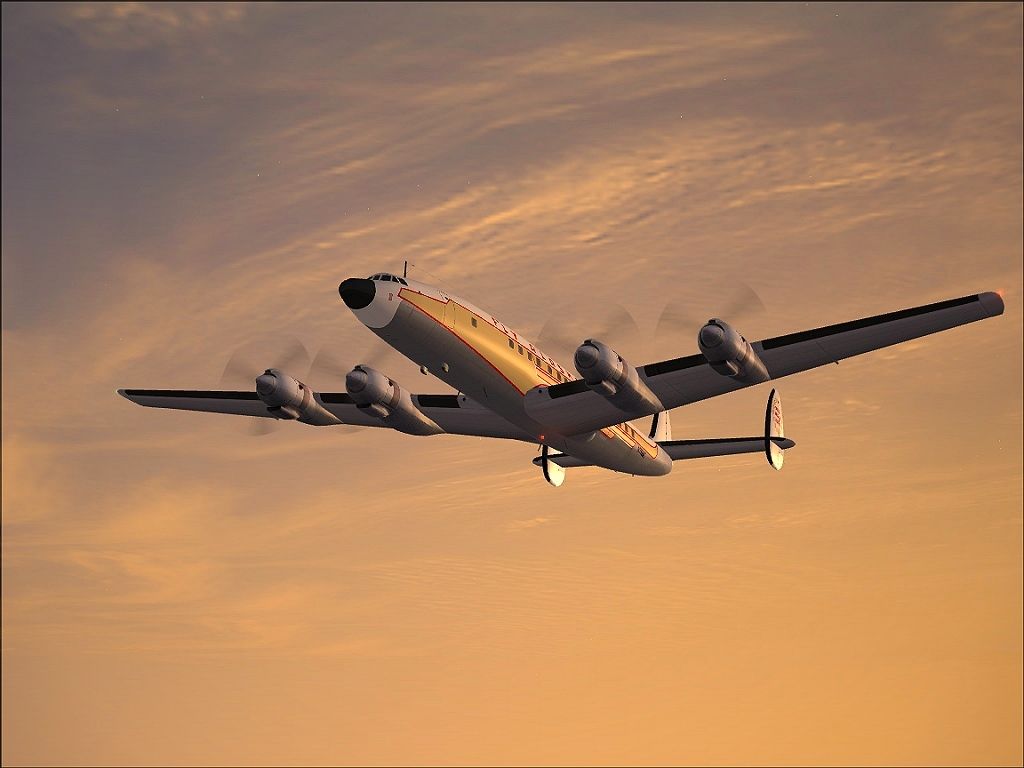 We just added several flights for the Alaska Airlines Lockheed 1649A. N7316C was delivered to TWA in June 1957 but only flew passengers for three years. In November 1960 it was converted to a freighter and on New Years Eve 1962 it went to Alaska Airlines. Today it is being restored for Lufthansa as the only flying example of the L1649 Starliner, or should I say it was being restored. Last March Lufthansa put the whole project on hold and the future is still being decided. N7316C's duties at Alaska Airlines are pretty much unknown. One source says it was used for MATS charters, yet I have seen photos of it on the passenger ramp at Anchorage. Though configured as a freighter, there is a chance that Alaska used it as a combi. Here at HAG we have several flights for it as a 99 passenger aircraft, from Anchorage to Fairbanks and Seattle; Anchorage to Juneau to Seattle; and Anchorage non-stop to Seattle. Only two ever flew for Alaska. Afterward it bounced from one cargo operator to another until it finally ended up in the Lufthansa restoration project. You'll find the aircraft a challenge to fly, especially in the mountains and poor weather of Alaska. Challenge your skills in our Alaskan L1649A!