Posted by David Reed on 01/03/2018
PHILIPPINE AIRLINES JOINS HAG

  It was the spring of 1941 when Philippine Airlines was founded. The first flight was in March using two Beech 18's. A few short months later the Japanese invaded and Philippine Airlines went on hiatus. In February 1946 the airline was back in business, using five DC-3's donated by the US Army. In July they borrowed an old DC-4 and began service from Manila to California. For some reason the Philippine government suspended all airline operations from 1954 to 1959. They restarted using Convair 340's, later replaced with Vicker Viscounts. HAG has recreated the original 1946 schedule with 17 DC3 flights across Luzon, Mindanao and Leyte. We also added ten Viscount flights from Manila, including one round trip to Hong Kong. PAL operated the DC3 until 1978, while the Viscount flew from 1957 to 1967. You can find Vickers 700-series Viscounts at the Classic Britsh Flight Sim tab.   
LONG HAUL PACIFIC FLIGHTS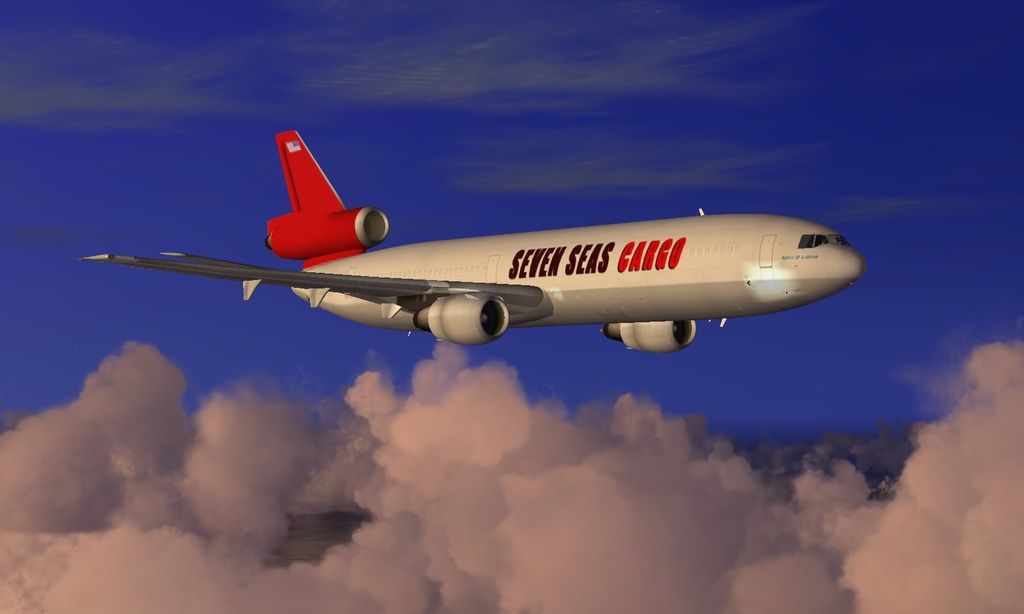 Our own cargo airline Seven Seas Cargo has added several Pacific runs for the DC10F and B747F. From our new west coast freight hub in Long Beach we now fly non-stop to Anchorage and Honolulu. From Anchorage we continue on the Tokyo and Manila. From Honolulu we continue on to Brisbane and Kuala Lumpur. We also added non-stops from Long Beach to our hubs in Miami and New York.

KLM 737/DC9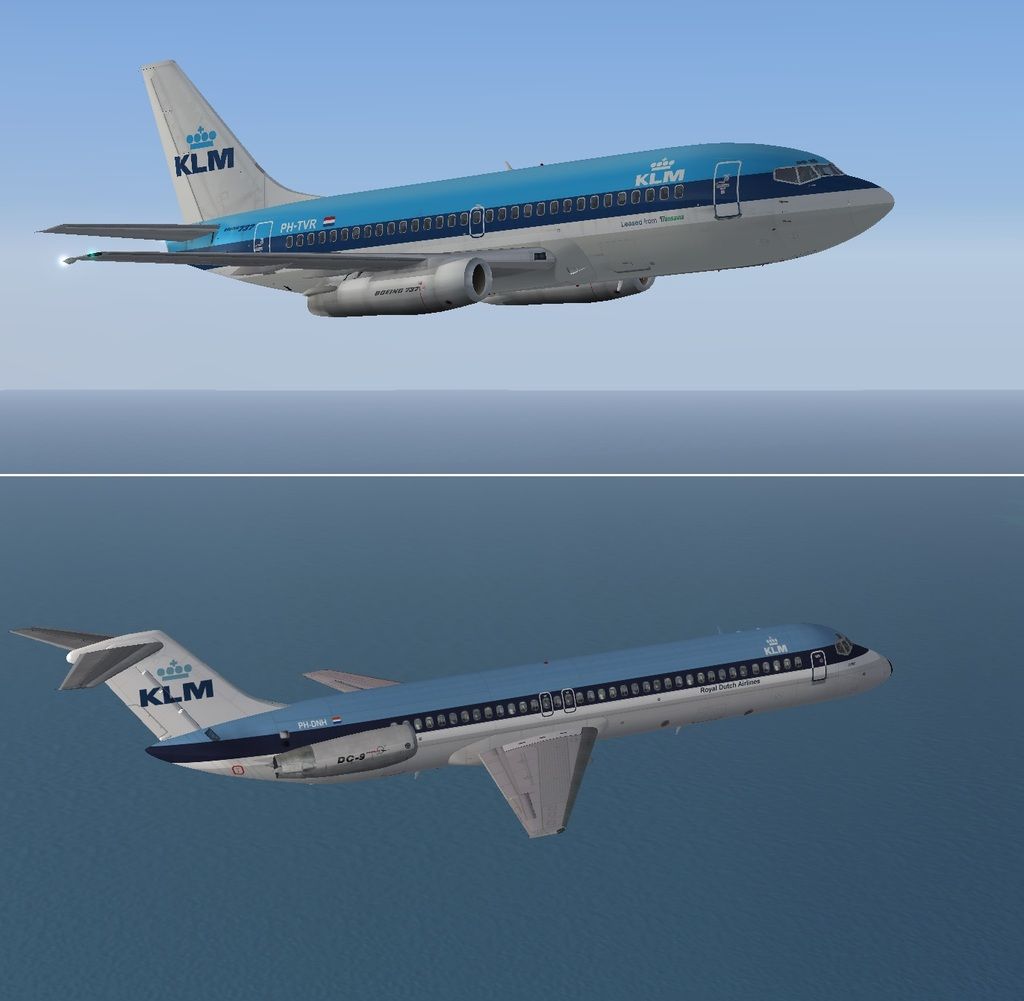 We just added 76 flights for the KLM 737 & DC9. Designed for the 737-200 and DC9-30, these routes run all over Europe, including Belgium, Spain, Portugal, Italy and Poland to name a few. The DC9 began flying for KLM in March of 1966, with 25 eventually being used, including the 1000th DC9. The B737 came twenty years later, with four 737-200's. These were mostly interim aircraft as KLM took delivery of the more fuel efficient 737-300 series. HJG has a terrific 737-300 available, and a 737-200 under development. They also have the DC9-30. Trip length varies from 20 minutes to just over two hours, Have fun!
LONG RANGE 747 FLIGHTS ADDED

   For those of us who enjoy flying the truly "heavy iron" on long haul flights, we've just added six destinations for our own cargo airline, Seven Seas. Designed for the B747-200 (and DC10-30F when able), five flights orginate in Frankfurt Germany and go round trip to New York, Los Angeles, Dallas, Detroit and Cape Town SA. One flight goes non-stop from LAX to Hong Kong and back. These night freight trips are classic 747 Freight Dog flights. If you can get the range, you can use the DC10-30F on most flights. Just call it an equipment substitution. 747's typically have a complete galley onboard, so feel free to visit your kitchen during the flight. Brew lots of coffee!
KLM ADDS JETS
   KLM has always been a major player in the international market. Adding jets to the KLM fleet, we are starting with two of their best long haul types, the DC8-63 and the DC10-30. The DC-8 could carry 212 passengers in a mixed class arrangement and fly 4500 miles. The DC10 could carry 284 (36 First/248 Coach) over 6000 mies. KLM flights operated all over the world. With these flights we have added Montreal, New York, Tunis, Entebbe, Nairobi, Kano, Istanbul, Athens, Baghdad and Tel Aviv. KLM was the second European Airline to purchase the DC10 with an order for twelve -30 Series in August 1969. First delivery took place in March of 1974 with PH-DLA. Though the idea was to replace the DC8 fleet, only these twelve were ever delivered, replacing only the DC8-63. KLM operated a variety of DC8's, from -30 Series to -60 series, 37 in all. KLM also flew the 737 and DC9, these will be added at a later date. We also added two r/t DC10 flights for American Airlines, EWR-LAX and EWR-SFO.

CONVAIR 240
   After WW2, the major US airlines went looking for a better medium range aircraft to replace the DC-3. Boeing and Douglas both submitted proposals but they were not what the airlines were looking for, lacking either capacity or being too complex. Martin was selling the M202, an unpressurized twin, and Convair was proposing the Model 110. American Airlines wanted pressurization, though, and the 110 design had it all- pressurization, reliability, economy of operation.  American proposed improvements it wanted, including 40 seats instead of 30, integral airstairs at the entrance door, and a door that hinged upward to protect boarding passengers from the elements. In sales its all about meeting the customer's needs, and with two engines and 40 seats, the CV240 came to life with an order for 100 from American Airlines. The power chosen was the R2800 due to it's vast availability after the war. American also got a coat closet by the entrance, two luggage bins inside, a full lavatory and a galley. Between 1947 and 1950, Convair built 176 for the airlines, 2 corporate aircraft and 390 for the Air Force. In 1950 Convair intriduced the CV340, which grew into the CV440 and CV580. HAG has 214 flights worldwide for the CV240, 242 for the CV340, 232 for the CV440 and 110 for the CV580.

DELTA AIRLINES DC-6 & CV-340 ADDED
   For years we have only had Delta Airlines represented by Lockheed Tristar flights. Today we have added 34 flights for Delta's DC-6 and Convair 340. These regional routes are short, perfect for when you don't have a lot of time. From Atlanta the DC-6 flies to Birmingham, New Orleans, Dallas and back. Also Atlanta to Shreveport and Dallas and back. The Convair flies from Chicago/Midway to St Louis, Memphis, Little Rock, Shreveport, Paducah, Evansville, Indianapolis, Ft Wayne, Toledo and Detroit. From Atlanta it roams up the coast to Charlotte, Washington, Philadelphia and back. Enjoy these new flights, when Delta discovered what passenger comfort was all about.

NEW AMERICAN AIRLINES DC-10 ROUTES ADDED
   We have just made changes to the American Airlines DC10 schedule. Three duplicate routes have been changed to historically correct routes. From Chicago (KORD) you can fly the "LuxuryLiner" nonstop to Mexico City, Miami and Newark. When the DC-10 was first announced, the launch customer was American Airlines with an order for 25 aircraft. First revenue flight was August 5, 1971 from Chicago to Los Angeles. Historic Jetliner Group has an excellent DC10 model, and don't forget to get the DC10 sound package while you're there. The sound of those big GE fans spooling up is unforgetable! HAG has 42 AA DC-10 flights available.
NEW NATIONAL AIRLINES ROUTES ADDED

    We have just added 28 new routes for the National Airlines DC-8 and B727 fleet. Now you can fly historically correct flights from Miami to Tampa, Los Angeles and San Diego. Also flights from Miami to New Orleans, Houston, Las Vegas and San Francisco. National now has Philadelphia to Ft Lauderdale as well. Non-stops to Los Angeles are for the DC-8 only. National was one of the orgiinal DC-8 operators, flying six Series 21, five Series 31, nine Series 51, and two Series 61. Also 19 727-100 Series and 24 727-200 Series. Fly to and from the Sunshine state on the Sunshine Airline!
727'S TO FLORIDA!

  Wintertime is here and the economy is booming, so people are looking to travel to the sunshine state, Florida! We have twelve new daily round trip flights to three destinations- Orlando, Tampa and Miami. Fly on Eastern from New York/LaGuardia; TWA from St Louis; United from Chicago/O'Hare; or Northwest from Detroit. These are the destinations each airline thrived on, and the 727 was the perfect jet for the job.   
EASTERN DC-6B/DC-7B ROUTES ADDED

   In the late 1950's the airlines were going through some big changes. At Eastern Airlines, senior management did not believe the upcoming jets would be profitable or even accepted by the public. While American, Delta and United were placing orders for 707's and DC-8's, Eastern began grabbing up 16 DC-6B's and 40 DC-7B's for their domestic market, replacing some of their older Constellations. These airplanes were proven performers and Eastern believed the future was with them. However, no one anticipated that the public would so strongly embrace the jets, nor so quickly! Suddenly Eastern was almost overnight playing catch up with everyone else. Nobody wanted the DC-6/DC-7 airplanes, and aircraft that cost $2 million new were in a few years selling for $150,000. Eastern managed to weather this economic disaster, but it wasn't until they parked all the props and put all those DC-9's into service that Eastern Airlines began seeing serious profit again. Here at HAG we have added 30+ routes for the DC-6B and DC-7B at Eastern. 
EASTERN DC-8'S

   Douglas Aircraft's DC-8 started life as a competitor in the USAF Air Tanker program. Having lost to Boeing's KC-135, Douglas went ahead with the DC-8 so as not to be left behind in the emerging jet airliner market, despite not having a single order. Prouction was given the go ahead in June 1955, and the first order was from PanAm in October, followed closely by United, National, KLM and Eastern. Everything about the DC8 was unique. The landing gear design and development cost more than the entire DC3 program. The design grew before production by five feet in width and twelve feet in length. The -10 series would have first generation JT3 engines, the domestic -20 series and international -30 series would have JT4 engines. First in service was a United DC8-11 and a Delta DC8-11 in September 1959. Eastern took delivery of its first DC8, a -21 series, in January 1960 (shown above). The Ten, Twenty, Thirty, Forty and Fifty Series were identical except in engines, fuel capacity and weight. Eastern Airlines eventually operated 44 DC8's, including 16 -20's, 5 -50's and 23 -60's.

    THE HISTORY OF US AIR CARGO
   Air freight started out as basically air mail. Some items were carried besides mail, but in the pre-1940 period almost all freight was postal air mail. A few tried starting all freight airlines, but these failed quickly. After WW2 the air freight business began to grow. It was dominated by major airlines who would carry freight in their baggage holds to suppliment passenger revenue. Four companies wanted to become all-freight carriers, Slick Airways, Flying Tigers, US Airlines and AirNews, but they met stiff resistence from the major airlines. Finally in 1949 the CAB allowed these four to operate as all-frieght carriers. US Airlines and AirNews quickly went under, but Slick and Flying Tigers managed to earn decent revenue. Flying Tigers was more diverse though, working contracts with railroads and the military for air freight. Slick eventually closed shop in 1965, while Flying Tigers continued to grow despite the major airlines having dedicated freight aircraft by now. Flying Tigers, in the mid-1960's, only had one competitor, Airlift International. Though profitable, air freight continued to be a small part of the aviation world, that is until Fred Smith introduced Federal Express in 1973. Overnight delivery was something the major airlines couldn't handle, and FedEx took off. In 1989 FedEx bought Flying Tigers and became a truly international heavy lift carrier. In 1988 UPS got their air carrier certificate and the two major freight carriers were created. There are other, smaller carriers, serving smalller nitch markets, but most of these carriers carry for either FedEx or UPS. For example, Ameriflight is the largest small aircraft carrier in the world (Beech 99's, Metroliners and Brazilias) and 99% of their business is associated with FedEx and UPS. Air Freight is a difficult market. The profit margins are small so cargo airlines often operate older aircraft. But these older types need greater maintenance, off-setting the savings over new aircraft. Buying newer aircraft is expensive ($300M for a new 747-8F), and financing is often far more extended than industry average. Demand for air cargo services can wildly fluctuate. In one quarter the demand may be high, then in the next you have way more airplanes than you need. It is this fluctuating marketplace, along with high financing costs and low profit margins that causes many smaller carriers to go under. Luckily here at HAG our cargo demand is always healthy! 

SEVEN SEAS EUROPEAN ROUTES ADDED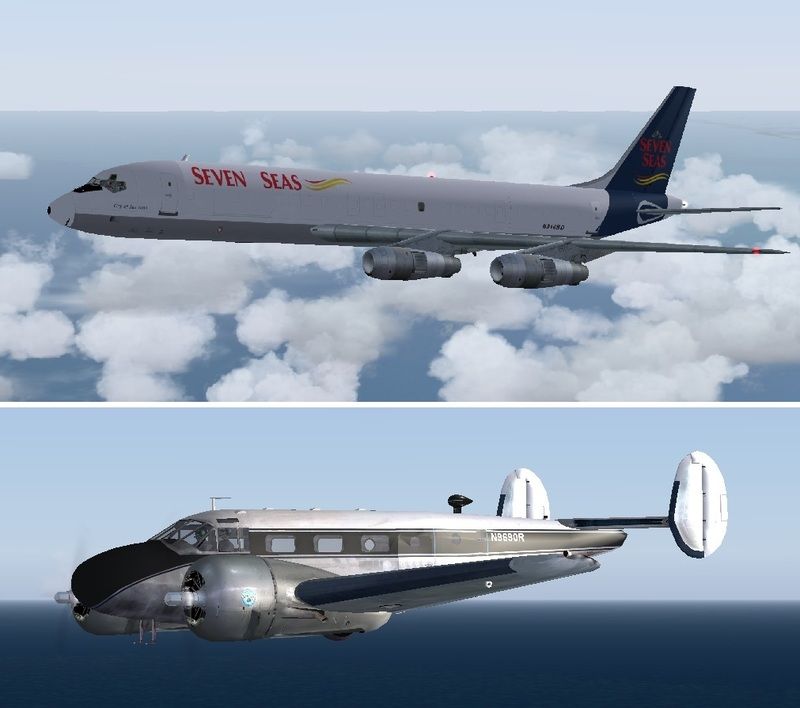 HAG has added some new routes in Europe from our new Lisbon hub. First we have two DC-8 routes: Lisbon to Frankfurt and Amsterdam/Schiphol. Overnight in Amsterdam, then back to Frankfurt and Lisbon in the morning. Also, Lisbon to Cologne and East Midlands. Overnight in the UK, then back to Cologne and Lisbon in the morning. Next we have two evening regional routes for the Beech 18. One is Lisbon to Madrid, on to Zaragoza and Toulouse, followed by a long empty leg back to Lisbon. The second Twin Beech leaves Lisbon for Salamanca, then to Bilbao and Bordeaux, then a long flight empty back to lisbon. Both planes leave around 5pm, returning at 0135. Like most small aircraft freight runs it involves multiple stops with hand unloading at each stop. Bring along your large thermos of coffee!

TRANS AUSTRALIAN JETS

 It may be getting cold up north, but down under it's just getting warm! Trans Australian Airlines introduced the 727 on it's main routes in the 1960's and 70's. HAG has added these routes from Melbourne to Brisbane, Port Moresby, Lae, Sydney, Adelaide, Perth, Launceston, Hobart, Mt Isa and of course Darwin. HAG has also created textures for the TDS 727-200 and the -100 series. You can find them on Flightsim.com. Enjoy the beauty of flying in Australia soon!