Posted by David Reed on 04/27/2018
DC4/C54 TO ALASKA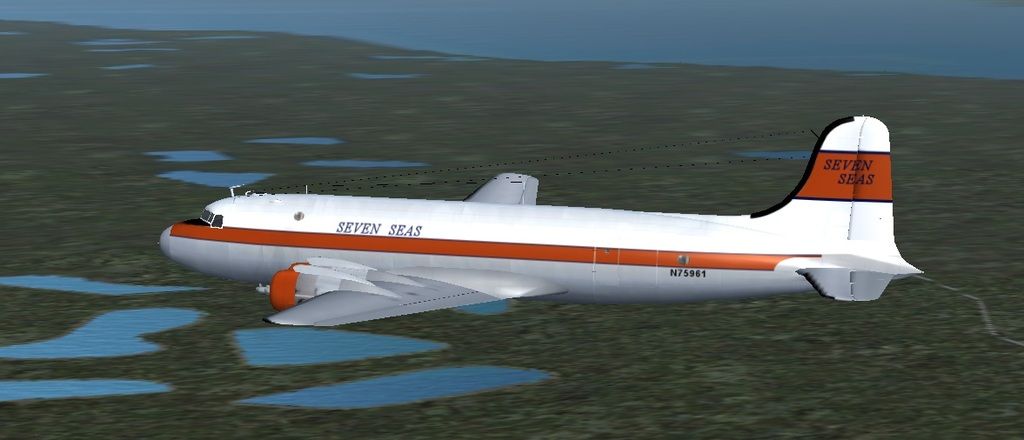 We have just added twenty C54 flights (C54 SSA) to the Seven Seas operations in Alaska. The DC4 can carry a larger load (28,000 lbs vs 7,000 lbs) over a greater range than the DC3. Our C54 routes duplicate the routes flown by both the DC3 and DC6. The orange stripe paint scheme is unique to the Alaska operations. Textures can be found at flightsim.com. Search for DC4SSA.zip or David Reed. 

ALASKA FLIGHTS UPDATED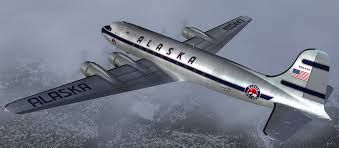 We just reviewed and made corrections to the Alaska Airlines flights. We may also be adding some more Alaska flights soon.

NEW COCKPIT CHRONICAL STORIES ADDED

    I recently had an interesting day of flying, and wrote about it in our own Cockpit Chronicals blog. Just click on the tab on the right to to the blog and read about real life flying experiences.
NEW USAF/USN ROUTES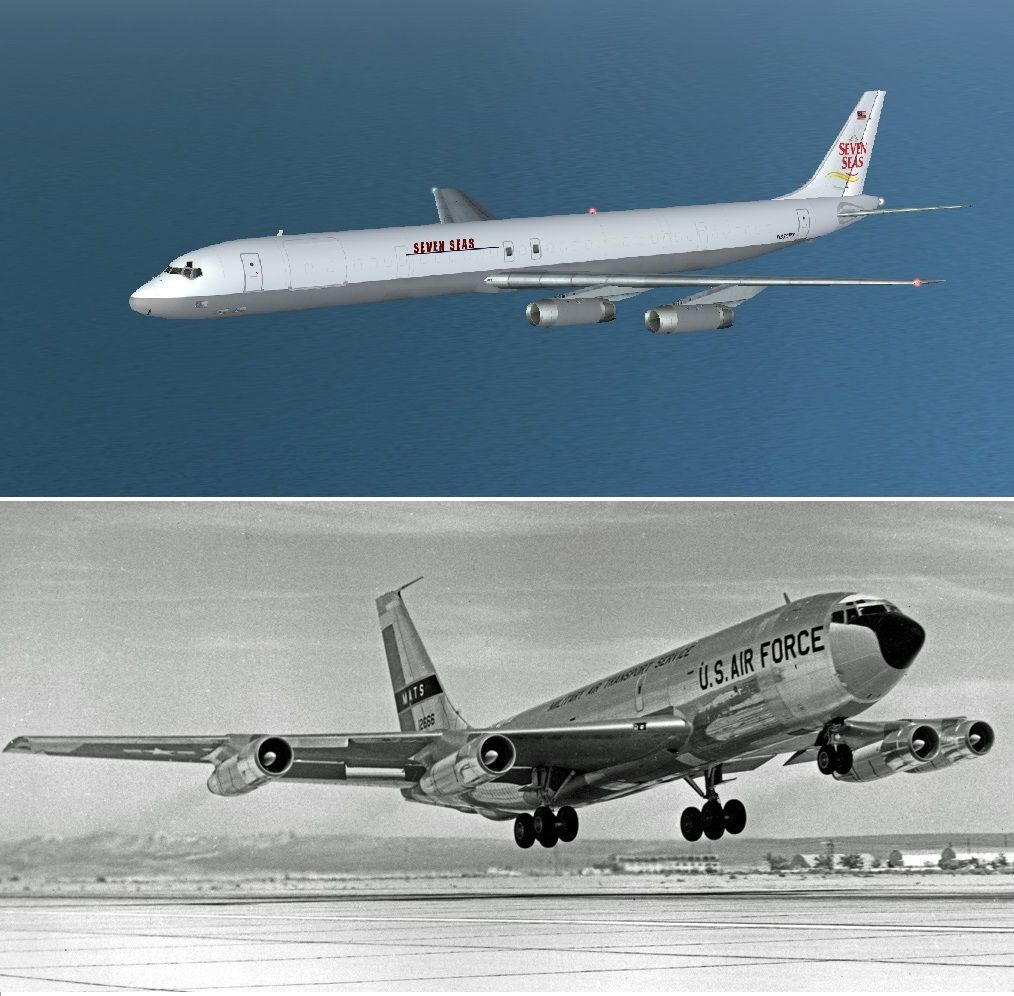 We've added six new flights to our military and Seven Seas flying, flying round trip runs from Djibouti to Stuttgart GR and NAS Sigonella. Djibouti Int'l Airport is the home of the US Navy's Camp Lemonnier, the only US base in Africa and from which all Special Operations (SEALS) are conducted. The US Africa Command is based in Stuttgart GR and the USAF operates a flight to Djibouti from there, though a Seven Seas DC8CF is used when assets are scarce. The Navy supports Camp Lemmonier from NAS Sigonella in Sicily using a Seven Seas DC-8CF. These flights are all either freight, passenger or a combi-mix of the two. They provide logistical support to the base, including support for the extensive drone operations that operate out of Djibouti.  

CATHAY PACIFIC JETS!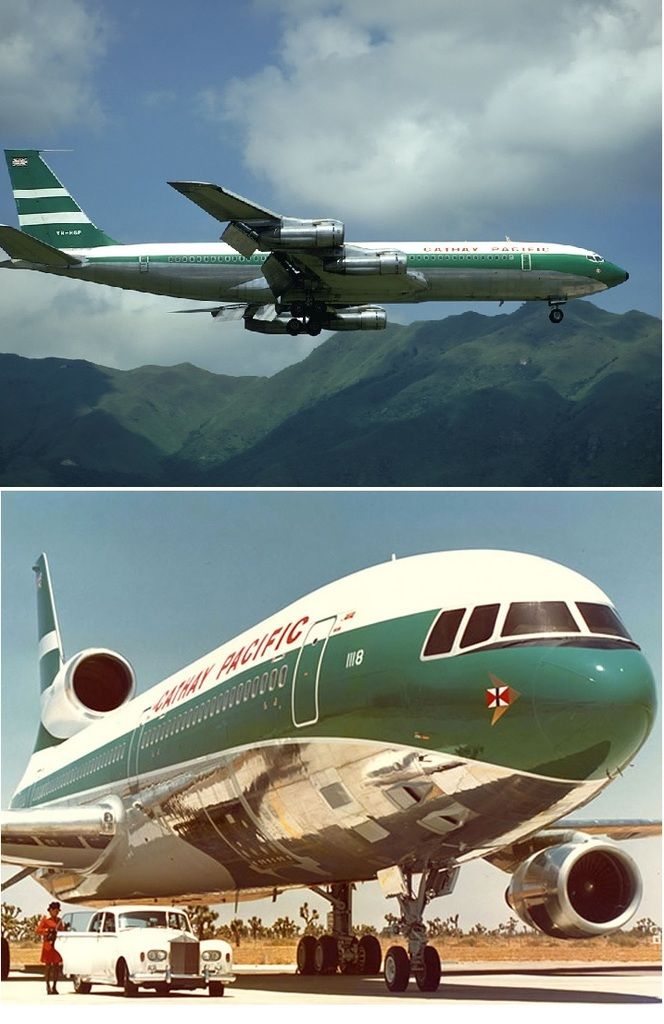 Cathay Pacific has always been represented by their ealiest aircraft- the DC3, DC4 and DC6. Today we have added their earliest jets. Their first jet was a Convair 880, but they eventually purchased more 707-320C's than CV880's. Introduced in 1971, the 707 Intercontinental could cruise farther with more passengers than the Convair. In their distinctive green and white colors, they served until 1983. The L1011 was their first wide body jet, and they served Cathay Pacific well. With 19 in the fleet, they were the largest L1011 operator outside the USA. She could carry twice as many passengers as the 707, and more economically too. So trustworthy was the aircraft that they operated them for over twenty years. We have added 48 flights from their base in Hong Kong to places like Kuala Lumpur, Bangkok, Tokyo, Jakara, Singapore, Taipei, Osaka, Perth, Melbourne and Sydney. Fly the exotic airline of the western Pacific today!

HISTORIC JETS: STARSHIP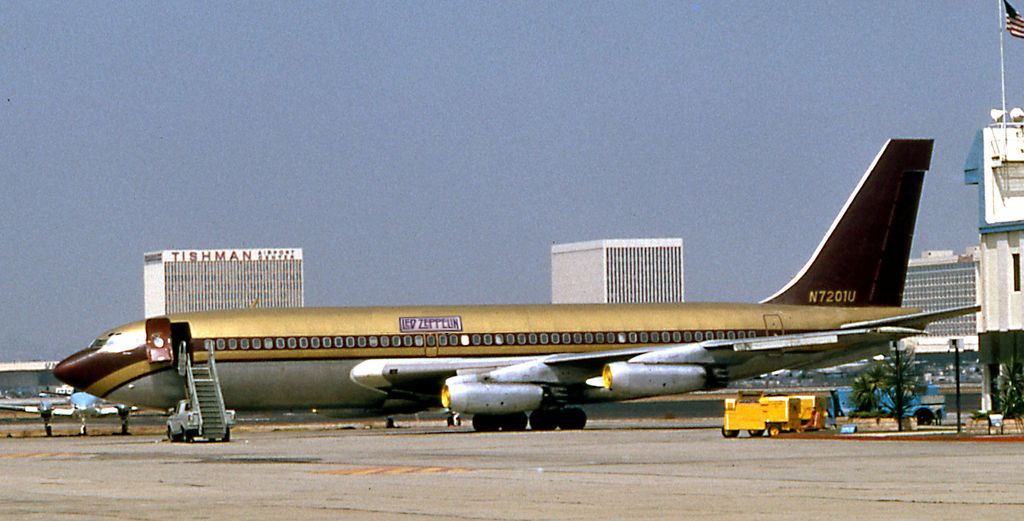 Back in 1959, after the 707 was revolutionizing air travel, Boeing developed the B720, a variation of the original 707-120 design, being 8' shorter with a lighter maximum weight and modified wing, allowing for shorter landings and takeoffs. No prototypes were built due to the similarities with the 707. The first 720 flew in November 1959 and was delivered to United as N7201U in June 1960. N7201U flew for thirteen years with United, then was traded in for the new 727. It was bought by Contemporary Entertainment and converted to a 40 seat corporate aircraft, complete with a bedroom, shower and a 30' couch opposite the bar. It was chartered to the band Led Zeppelin for their 1973 tour and called "The Starship". Peter Grant, band manager, would base Led Zeppelin out of either New York, Chicago, Dallas or Los Angeles, commuting to concert locations in the afternoon and returning to the same hotel that night. This method greatly reduced the complications with staying in a different hotel every night. At one point during the tour they switched to a Falcon 20, but after encountering significant turbulence while enroute from San Francisco to Los Angeles, Peter Grant immediately switched back to the Starship. The Boeing 720 was again used for Led Zeppelin's 1975 tour and can be seen at the end of Led Zeppelin's movie, "The Song Remains The Same". Several other bands also used the Starship including Deep Purple, The Allman Brothers Band, the Rolling Stones, Alice Cooper and Peter Frampton. During Led Zepplin's 1977 tour the aircraft developed engine problems that eventually led to it being permanently grounded. The USAF bought it in 1982 from desert storage for parts for their KC-135 fleet SCHEDULES: We just added the Starship to our schedules for a limited time. Look for it under Chester Charter (CCA B720). In this schedule we have included all of the flights Led Zeppelin made during their 1973 North American Tour. Most are fairly short, so enjoy! Textures for the HJG B720 can be found at FlightSim.com. Search for 720Starship.zip..

PIPER CHIEFTAINS ON CHARTER

  If you are looking for something different someday, you should check out our very own Chester Charter. Chester Charter operates everything from the Piper Chieftain to the DC9-10. From three bases in the US and one in England, Chester allows you to fly challenging charters from a home base to anywhere you can reach. The beauty of flying the Chieftian or the Twin Beech is that you can land almost anywhere- grass, dirt, paved, whatever. Visit those small towns you never get to see on the airlines. In the business world, charter aircraft play a significant role in giving a business an advantage over their competition, while making their people more productive. A charter can visit many towns and customers, while the competition is still sitting at the airline gate. The Piper Chieftain in its day was a great corporate and charter aircraft. It could carry up to six passengers with one or two pilots up front. Sometimes they even looked as good as this one! The Chieftain was a growth variation of the Navajo, with two Lycoming TIO-540's driving counter-rotating propellers that could churn out 190-205 knots in cruise. As the young lady is showing us, she has a beautiful pair of wing lockers. The ultimate Chieftain had the Panther conversion. Equipped with wingtips, four blade props and an improved ignition system. They usually had extra soundproofing installed, upgraded avionics, you name it. Next time you are looking for a change in pace, try a Cheiftain on a Chester flight. And don't forget, we also have a few flying scheduled runs in Alaska with Bering Air (BRA), Northern Air Cargo in Canada, as well as for Seven Seas Air Cargo in the Caribbean!

.CLASSIC BRITISH AIRCRAFT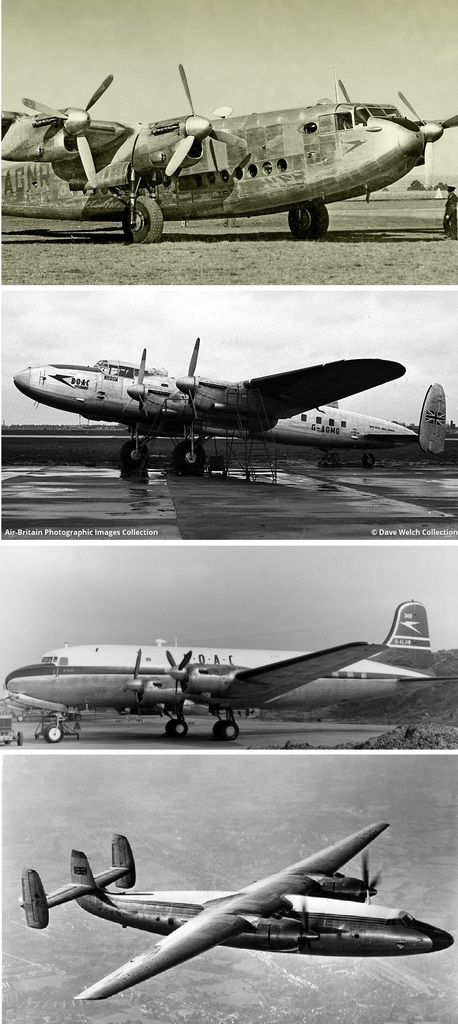 We have just added 47 new flights for BOAC and BEA using some truly classic British airliners. First, the Avro York was an ambitious idea that was overshadowed by the wartime need for military aircraft. Avro quietly pursued the design on paper, using the wings, tail, engines and landing gear from their successful Lancaster bomber. The design was accepted by the RAF as a much-needed long range transport in 1943, and production began on a limited scale. One of the prototypes was fitted out with luxury and became Winston Churchill's personal aircraft.

Tha Avro Lancastrian was another Avro venture into commercial aircraft. Quick and easy, it was simply a modified Lancaster bomber. Though it had terrific range, the aircraft could only carry nine passengers, so was primarily used for mail, high priority cargo and a few VIPs.

Canadair Aircraft Ltd. took over the Canadian Vickers Ltd. operations on 11 November 1944 and continued with there DC-4 variant project. The new Canadair DC-4M powered by Rolls-Royce Merlin engines  emerged in 1946 as the "North Star." More than just an engine swap, the North Star had the Douglas DC-6 nose, landing gear and fuselage shortened by 80 in, DC-4 empennage, rear fuselage, flaps and wing tips, C-54   middle fuselage sections, wing center- and outer-wing panels, cabin pressurisation, a standardized cockpit layout and a different electrical system. A total of 71 were eventually built.

The Airspeed Ambassador was a medium range passenger aircraft designed to replace the British Dakotas (DC3). Pressurized and capable of carrying 47 passengers, it was popular for a few years until the Vickers Viscount came along with turboprop engines, greater speed and range. Only 21 Ambassadors were ever built, but they were last British radial engine commerical aircraft ever built.

CONCORDE RETURNS!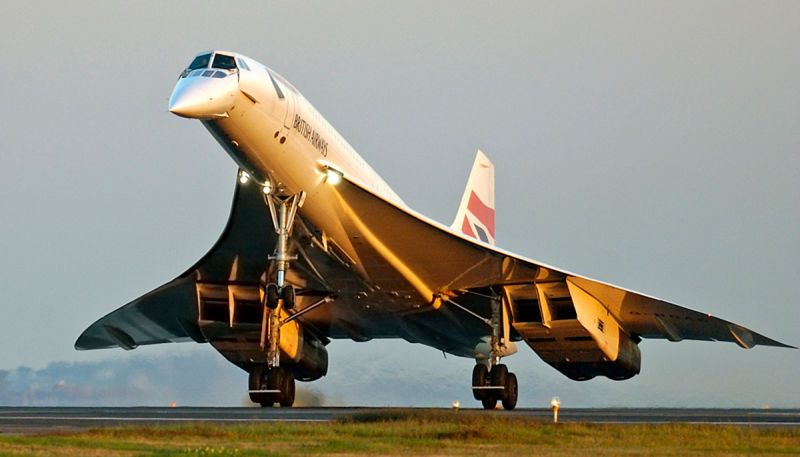 It's been over a year since we withdrew the Concorde from HAG, but today she flies proudly again! First commerical flight was January 21, 1976 and the final flight wasn't for another 27 years. We have reintroduced the Concorde on it's first two routes, New York/JFK to London/Heathrow, and New York/JFK to Paris/DeGaulle. Original cost estimate was $96M US, but that quickly ballooned to $1.8 Billion US. Cost be dammed, this was European pride! Boeing and Airbus may build the most and the biggest, but Concorde always made you sigh and dream. It had a double-Delta wing, computer-controlled inlets, the first FADEC engine controls and the first fly-by-wire control system. It lifted off at 217 knots, cruised at Mach 2 while buring 4800 gph (0.3 mpg!). Today, Boom Supersonic is working with Virgin and JAL to develop a 45 seat supersonic airliner that could travel Mach 2.2, using modern technology to keep costs down and keeping air fares competitive with current First Class ticket prices. The hope is to introduce service five years from now. Studies show the market exists for up to 450 of these aircraft by then.

AIR FRANCE CARAVELLE FLIGHTS ADDED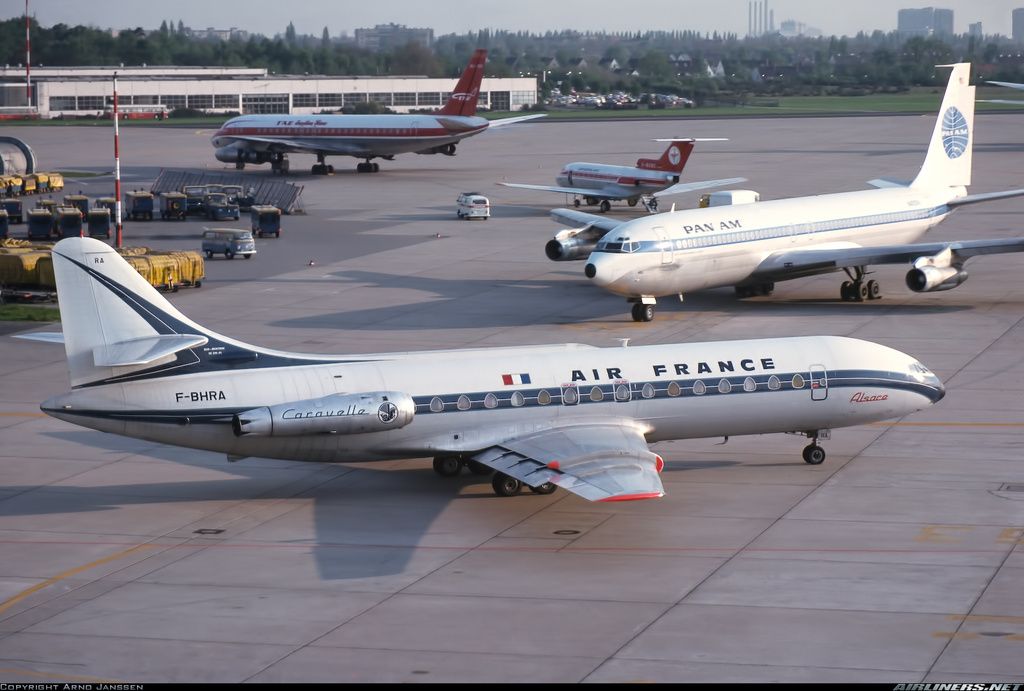 In March 1952, SNCASE (SUD) put forth it's design called the X-210. Accepted by the French government a year later, the Caravelle borrowed several design features from the British DeHavilland Comet, including the forward fuselage, cockpit design and layout. A distinctive feature was the triangle-shaped windows, with rounded corners. These rounded corners helped prevent metal fatigue that the square Comet windows had such an issue with. In April 1955 the first aircraft made its maiden flight, followed by a second prototype a year later. In 1959 Air France purchased the first Caravelle I with seating for 80. Air France bought 12 Caravelle 1, 25 Caravelle IA and 17 Caravelle III. The Caravelle could carry 80-91 passengers depeding on layout. Air France only had two accidents involving the Caravelle, one attributed to a fire on board, and the other due to pilot error. Unfortunately, no one survived either accident. We have added 32 Caravelle flights in Europe. We also have Caravelle flights already for United, Finnair, Sabena, Swissair & SAS. HJG has a terrific set of Caravelle models to choose from.

SEVEN SEAS MILITARY CHARTERS ADDED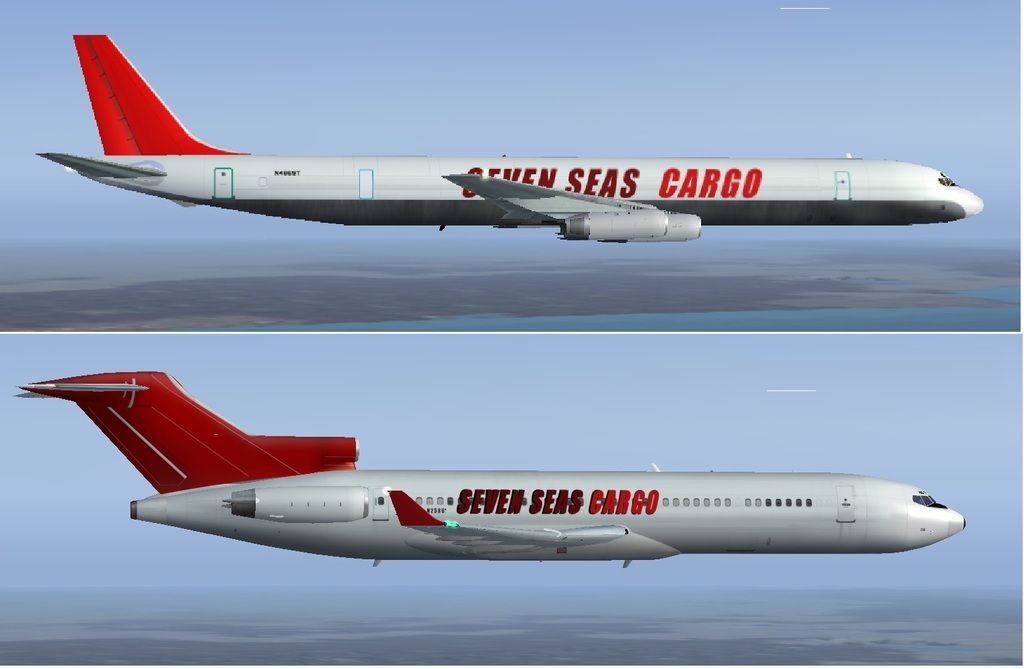 We have added over 50 flights for Seven Seas Cargo using the DC8F and the B727F. These flights originate from either Long Beach CA or RAF Mildenhal GB, and fly to various USAF bases around the western US and Europe. These are all active bases, so loads may be food, hazmat or anything the Air Force needs moved to these bases. Long Beach and RAF Mildenhal are both supply centers where cargo is sorted and loaded. These are sunset flights, leaving around 4pm. 

SEVEN SEAS UPDATED, PAX FLIGHTS ADDED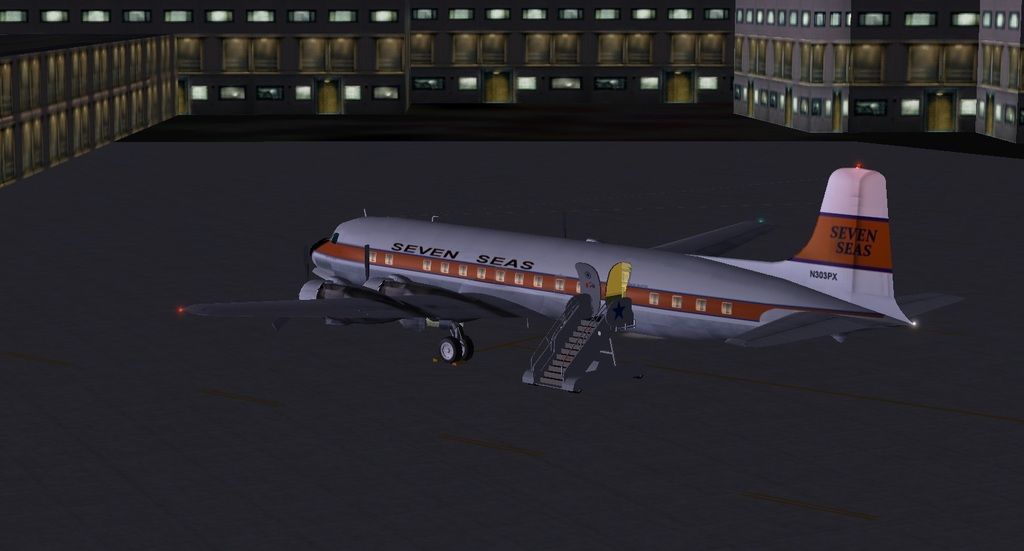 We have just reviewed and updated the Seven Seas flights. We look for errors, correct them and arrange the flights by departure airports. We also added military passenger charters from two eras. The first set are from the late 1950's using the DC-6B in an all-coach configuration. The second is for the 1980's & 1990's when we use a passenger-configured 747-231. This is a combination of coach (enlisted) and Business Class (officers). These flights orginate from typical Army and Marine Corp bases and travel to Europe mostly, with some service to Bagram in Afghanistan, and one USAF flight from Elmendorf AFB AK to South Korea. Take care of our fine men and women heading out to defend democracy!
UNITED UPDATED, DC-7 SERVICE ADDED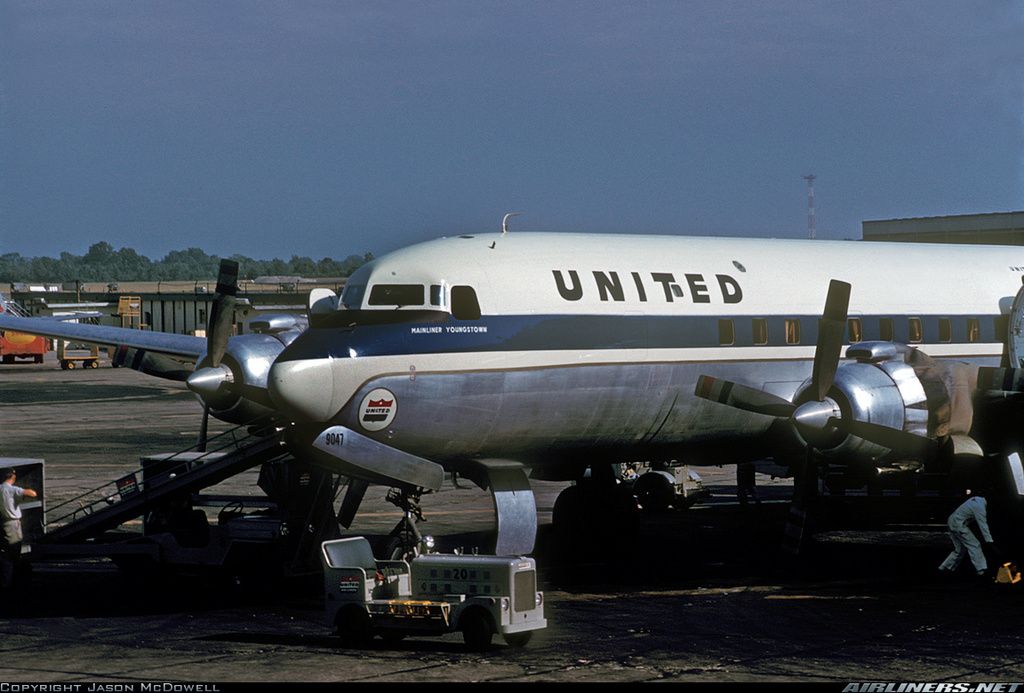 We have just finished reviewing the United Airlines flights. In doing so, we added United DC-7 Red Carpet Service. These were special flights, serving first class pasengers only. In fact, one flight (LGA-MDW-LGA) was shown in brochures as for men only! Red Carpet flights offered the best of what United Airlines had to offer. From Chicago they flew non-stop to Portland, Seattle, San Francisco and Los Angeles. Same for Detroit, flying from Yipsilanti. Red Carpet service also flew from LAX/SFO to Honolulu. Three flights operated non-stop from the west coast to New York and back. Fares from Los Angeles to New York were a spectacular $166.30. That's $1510 in today's money (If you flew today, United would charge you $2394). I have listed the flights using fares from 1959. Beginning in April 1954, United began taking delivery of the new DC-7, purchasing 57 DC-7's in all, all but seven being the original type (They operated seven DC-7B's as freighters). They were faster than the DC-6, cruised higher and had longer range, especially when carrying a full load of 66 First Class passengers. Everyone dressed in suits and tie, the drinks were free and the food was outstanding. Or, you could save a few bucks, fly with the rabble in the DC-6 and make ten stops while crossing the continent. Yes, if you flew on United's DC-7 Red Carpet flights, you were something special! All 34 Red Carpet Service flights are available now a the Historic Airline Group.
NORTHWEST DC-6B JOINS THE FLEET

  HAG has added 62 flights for the DC-6B with Northwest Airlines using the 1956 schedule. In 1954 Northwest bought their first DC-6B and used it initially on their long flights to Tokyo. However this quickly changed to the B377 and DC-7C, so the DC-6B was placed in service on domestic routes. Back in the day, flights were often all First Class or all Coach. NWA DC-6B's often flew the coach routes with a few exceptions, using the 88 seat configuration. While the DC-4 was an improvement over the DC3, and the B377 was a financial nightmare, the DC-6B was the perfect plane at the perfect time, proving itself with only a single, non-fatal incident while at Northwest. Fast, pressurized, reliable, it made Northwest a true player in the major airline domestic market. Our DC-6B is N577, delivered in May 1957 and flew with Northwest for seven years. Eventually it ended up flying for Trans Air Link out of Miami, then moved to Northern Air Cargo in Anchorage. In 2001 it was written off in an accident at a remote airstrip in Alaska. Look for Northwest DC-6B textures on Flightsim.com soon!