Posted by David Reed on 01/03/2018
 NEW STORIES IN COCKPIT CHRONICALS

     There are new stories in our own Cockpit Chronicals. Simply click on the link tab on the right side of this page.

 CHESTER CHARTER ADDS A DC9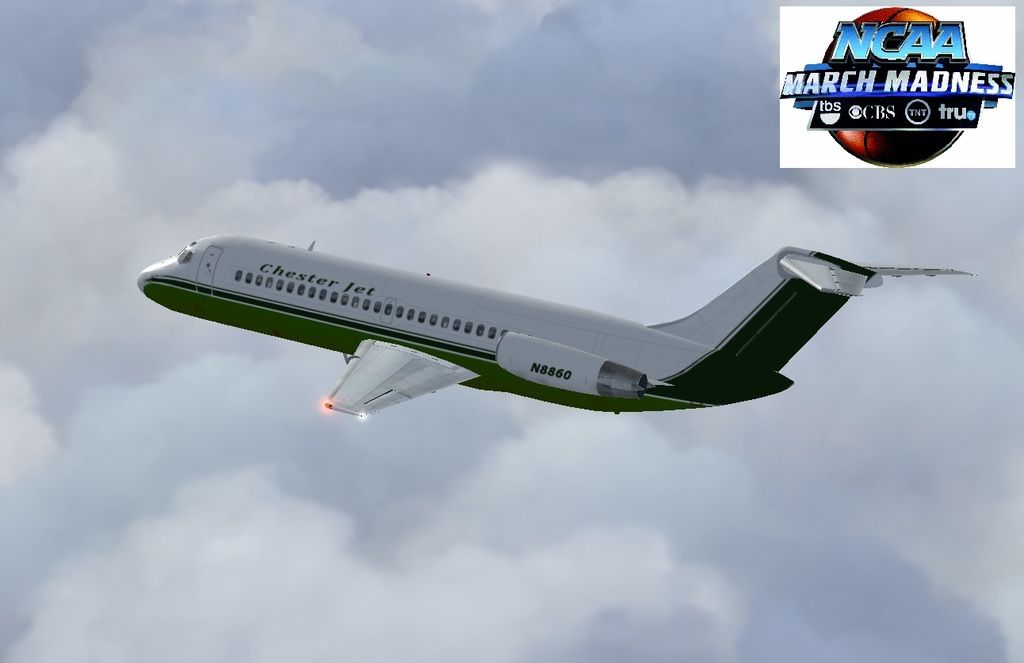 Chester Charter has added a pair of DC9-15's for use on passenger and freight charters. Based in St Louis at the Spirit of St Louis Airport (KSUS), the DC9-15 Series is configured in a 72 seat layout. It's mission is primarily for NCAA teams where it can carry 60 players and 12 coaches /VIPs. It is listed as a Chester Charter flight (CCA) and should be flown between colleges. Your President used to do this with a Saab 340 in years past, carrying primarily women's basketball teams. You would think it would be a crazy party in back, but teachers kept students focused on homework during the flights. So stock up with plenty of Pepsi, Diet Dew and Domino's Pizza and head out to the next collegiate event! Look for textures for the HJG DC9 for both Chester Charter DC9's at Flightsim.com.

Another DC9-15F is based in Luton/London (EGGW), this new addition will serve the on-demand freight business throughout northern Europe. N784TW was first delivered to Continental in 1967 as N8906. Five years later it was sold to Air Canada, then five years after that it went to Air Florida. Seven years later it was sold to Purolator Courier and converted to a freighter with a cargo door being added. Later it went to Emery, then Kitty Hawk and Reliant. In ended up at Ameristar in 2002. Today it retains it's US registration (for now) with Chester Charter's UK division. Charters are easy to fly. Just leave Luton and fly wherever the charter takes you. Upon return you simply file a regualr Pirep with the destinations listed in the remarks section. Flight time and fuel used is cummulative for the entire trip.
SSAC TEXTURES AVAILABLE

 I've just uploaded to Flightsim.com textures for the Seven Seas Air Cargo 747, DC10 and two for the 727. The DC10 and 747 are both Posky models, while the 727's are for the TDS 727-200F. At the Flightsim website, go to File Library and search for David Reed. These textures should be posted this weekend.

AUTOMOTIVE INDUSTRY FLIGHTS FOR SSAC

  Seven Seas Air Cargo now has flight with four automakers. In the automotive business, things can go wrong and when parts aren't at the final assembly plant in time the line shuts down, costing millions every hour. Therefore expidited shipping of parts is a must. For GM we run from parts suppliers in Baltimore, Bloomington IN and Kokomo IN to the Escalade/Yukon final assembly plant near Dallas. For Ford we pick up parts at Buffalo and Sharonville OH, then fly to final assembly plants in Kansas City (F150), Chicago (Taurus) & Detroit (F150). We also have daily flights between Munich and Spartanburg for BMW, and between Stuttgart and Birmingham for Mercedes Benz. Flying car parts is big business, and for this we have the DC9-30 and B727-100 (and 747 for German trips). Remember, speed is everything!
PHILIPPINE AIRLINES JOINS HAG

  It was the spring of 1941 when Philippine Airlines was founded. The first flight was in March using two Beech 18's. A few short months later the Japanese invaded and Philippine Airlines went on hiatus. In February 1946 the airline was back in business, using five DC-3's donated by the US Army. In July they borrowed an old DC-4 and began service from Manila to California. For some reason the Philippine government suspended all airline operations from 1954 to 1959. They restarted using Convair 340's, later replaced with Vicker Viscounts. HAG has recreated the original 1946 schedule with 17 DC3 flights across Luzon, Mindanao and Leyte. We also added ten Viscount flights from Manila, including one round trip to Hong Kong. PAL operated the DC3 until 1978, while the Viscount flew from 1957 to 1967. You can find Vickers 700-series Viscounts at the Classic Britsh Flight Sim tab.   
LONG HAUL PACIFIC FLIGHTS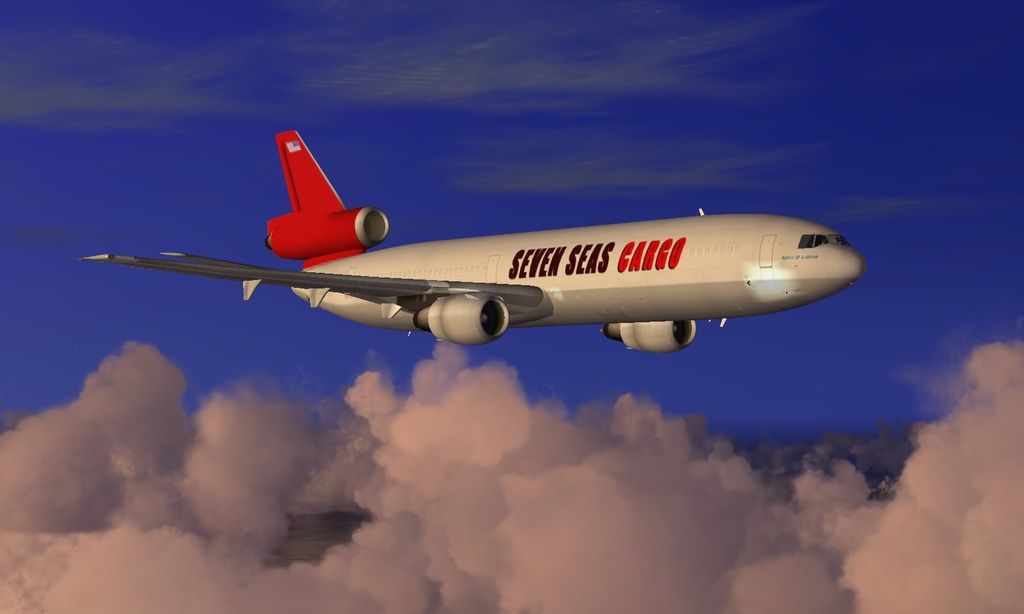 Our own cargo airline Seven Seas Cargo has added several Pacific runs for the DC10F and B747F. From our new west coast freight hub in Long Beach we now fly non-stop to Anchorage and Honolulu. From Anchorage we continue on the Tokyo and Manila. From Honolulu we continue on to Brisbane and Kuala Lumpur. We also added non-stops from Long Beach to our hubs in Miami and New York.

KLM 737/DC9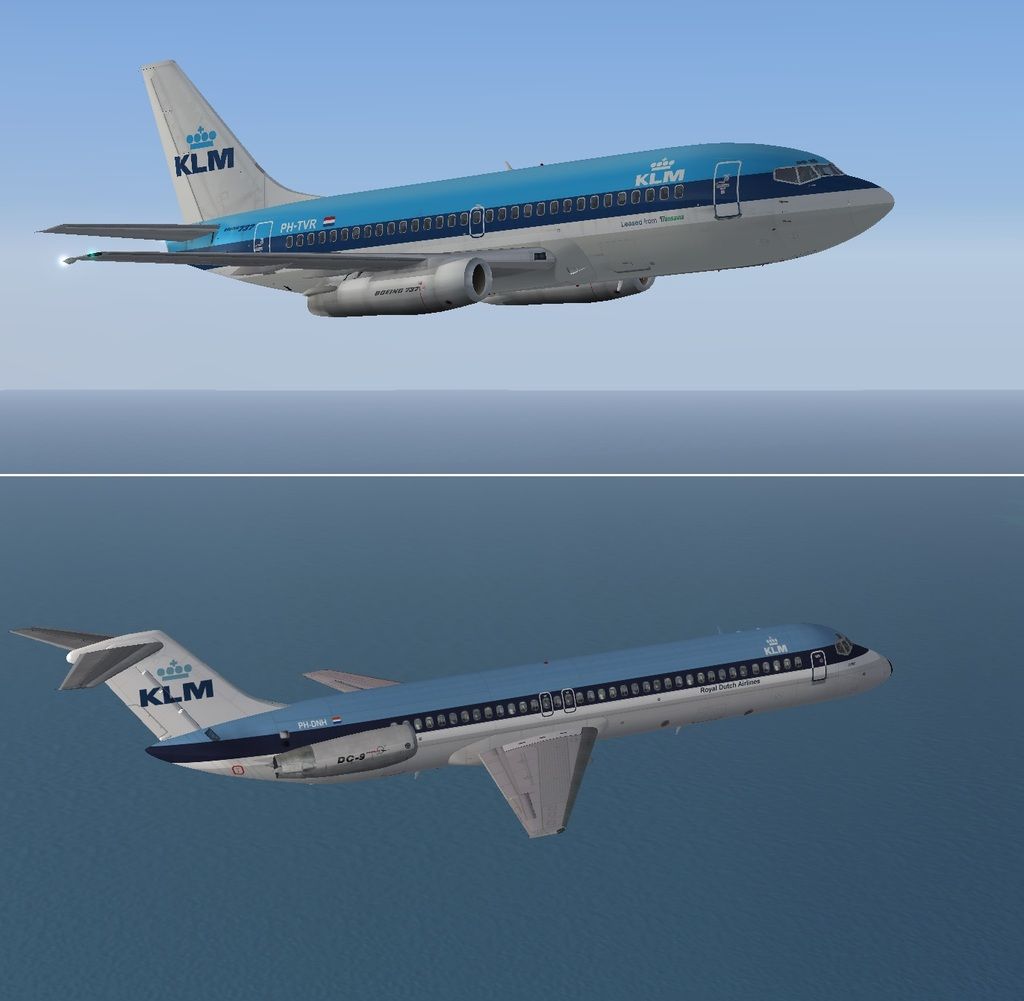 We just added 76 flights for the KLM 737 & DC9. Designed for the 737-200 and DC9-30, these routes run all over Europe, including Belgium, Spain, Portugal, Italy and Poland to name a few. The DC9 began flying for KLM in March of 1966, with 25 eventually being used, including the 1000th DC9. The B737 came twenty years later, with four 737-200's. These were mostly interim aircraft as KLM took delivery of the more fuel efficient 737-300 series. HJG has a terrific 737-300 available, and a 737-200 under development. They also have the DC9-30. Trip length varies from 20 minutes to just over two hours, Have fun!
LONG RANGE 747 FLIGHTS ADDED

   For those of us who enjoy flying the truly "heavy iron" on long haul flights, we've just added six destinations for our own cargo airline, Seven Seas. Designed for the B747-200 (and DC10-30F when able), five flights orginate in Frankfurt Germany and go round trip to New York, Los Angeles, Dallas, Detroit and Cape Town SA. One flight goes non-stop from LAX to Hong Kong and back. These night freight trips are classic 747 Freight Dog flights. If you can get the range, you can use the DC10-30F on most flights. Just call it an equipment substitution. 747's typically have a complete galley onboard, so feel free to visit your kitchen during the flight. Brew lots of coffee!
KLM ADDS JETS
   KLM has always been a major player in the international market. Adding jets to the KLM fleet, we are starting with two of their best long haul types, the DC8-63 and the DC10-30. The DC-8 could carry 212 passengers in a mixed class arrangement and fly 4500 miles. The DC10 could carry 284 (36 First/248 Coach) over 6000 mies. KLM flights operated all over the world. With these flights we have added Montreal, New York, Tunis, Entebbe, Nairobi, Kano, Istanbul, Athens, Baghdad and Tel Aviv. KLM was the second European Airline to purchase the DC10 with an order for twelve -30 Series in August 1969. First delivery took place in March of 1974 with PH-DLA. Though the idea was to replace the DC8 fleet, only these twelve were ever delivered, replacing only the DC8-63. KLM operated a variety of DC8's, from -30 Series to -60 series, 37 in all. KLM also flew the 737 and DC9, these will be added at a later date. We also added two r/t DC10 flights for American Airlines, EWR-LAX and EWR-SFO.

CONVAIR 240
   After WW2, the major US airlines went looking for a better medium range aircraft to replace the DC-3. Boeing and Douglas both submitted proposals but they were not what the airlines were looking for, lacking either capacity or being too complex. Martin was selling the M202, an unpressurized twin, and Convair was proposing the Model 110. American Airlines wanted pressurization, though, and the 110 design had it all- pressurization, reliability, economy of operation.  American proposed improvements it wanted, including 40 seats instead of 30, integral airstairs at the entrance door, and a door that hinged upward to protect boarding passengers from the elements. In sales its all about meeting the customer's needs, and with two engines and 40 seats, the CV240 came to life with an order for 100 from American Airlines. The power chosen was the R2800 due to it's vast availability after the war. American also got a coat closet by the entrance, two luggage bins inside, a full lavatory and a galley. Between 1947 and 1950, Convair built 176 for the airlines, 2 corporate aircraft and 390 for the Air Force. In 1950 Convair intriduced the CV340, which grew into the CV440 and CV580. HAG has 214 flights worldwide for the CV240, 242 for the CV340, 232 for the CV440 and 110 for the CV580.