Posted by David Reed on 06/21/2019
FEDERAL EXPRESS EXPANSION

We just finished a major expansion of Federal Express 727 flights in the US. Originally we had ten flights, but today we have over eighty flights in the midwestern and southeastern US. Most flights follow the typical practice of flying to a major city, then on to a smaller city to wait for the next evening departure. Also, flights arrive close to midnight in Memphis, and depart between 4AM and 5AM. All US 727's are -200 series, while the European flights from Frankfurt are now -100 series aircraft.

CAPITAL VISCOUNTS SCHEDULE UPDATED

In 1946 Pennsylvania Central Airlines was in dire straights. They were forced to cut one third of their employees, but they also added newer equipment and got a new name: Capital Airlines. In 1950 they acquired Lockheed Constellations and introduced the Viscount 700 to the US market in 1955. Passenger revenue almost doubled. The Viscounts were modern, fast and smooth. Passengers loved the roomy interiors and huge oval windows. Still, Captial just couldn't get it's financial act together. Their luck with the Viscounts wasn't good either. Four accidents with no survivors. Vickers foreclosed on Captial's Viscounts in 1960, but in 1961 United bought Capital and took the Viscounts in the deal. United flew the last Viscount trip in 1969.

KLM SCHEDULE UPDATED

Captain Douglas has just updated the KLM schedules, increasing the size by just over ten percent. The schedule includes early DC2, DC3 and CV340 flights, the DC4/DC6/DC7 series, L049/L749/L1049G series too. Turboprops are now represented by the Viscount and L188 Electra II. Jets are still the DC9/DC8/DC10/B737 types. With over 300 flights, redone for accurancy and better representation, KLM is now a top flight airline in Europe with HAG.
THE SUD CARAVELLE

In 1951 the French Civil Aviation Authority put forth a design request for a short to medium range airliner. Twenty manufacturers responded, but in 1953 SNCASE was awarded the contract. SNCASE worked with DeHavilland and the front of the aircraft was a copy of the Comet jetliner. The engines were Rolls Royce Avon Mk522 turbojets. First flight took place in 1956, while Air France and SAS placed the first firm orders. SNCASE merged with SNCASO about this time and became Sud Aviation, but the original SE-210 designation remained. In the first four years there were orders for 176 Caravelles. The Sud Caravelle first entered passenger revenue service with SAS and Air France in 1959, six years before the DC9 and BAC 1-11. There were six different variations, with the Caravelle III considered as the basic airliner type, and the VI-R was the US version (United). The model 10A/B Super Caravelle had numerous, significant improvements over the Caravelle III, and included P&W JT8D engines. The Caravelle could carry 80-89 passengers at a maximum of 435 kts for up to 1000 nm. 282 were built between 1958 and 1972. At HAG, we have 286 Caravelle flights over Europe, with more yet to be added.


PANAM 727 SCHEDULES UPDATED

We just updated the Pan American 727 schedules, adding 50 more flights in the process. In 1966 PanAm began using the 727 on their Berlin routes in Europe. In 1980 PanAm needed a domestic operation to feed their international routes, and the purchase of National Airlines was considered the perfect deal as National's 727's fed PanAm hubs perfectly. Accountant's though had another viewpoint, as the financially strapped PanAm could hardly afford the deal with National. However for the next ten years, PanAm 727's roamed the east coast, and even flew from Houston out to Las Vegas and LAX.


BEA SCHEDULES UPDATED
We just update British European Airways schedules. This includes numerous types, including Rapide, Viscounts, Ambassadors, Tridents and many more. The total schedule size has almost doubled as we better represent this classic British airline from 1946 to 1974. BEA was the largest domestic carrier in the UK and the largest airline outside the United States. BEA was always a big proponent of the turboprop airliner, and was the launch customer for the Vickers Viscount. Their routes covered just about every city in Europe and North Africa. In 1958 they ordered the Comet IV, followed by the Trident in 1959. By the mid-1960's most competitors were moving into more economical 727's, 737's and DC9's. BEA applied for permission to upgrade their fleet, but the government refused, insisting they buy British. In 1965 BEA ordered their first 15 BAC 1-11's. As the BAC 1-11's replaced the Viscounts, more orders were placed. When orders couldn't meet demands, additional Trident's were purchased. On April 1, 1974 BEA merged with BOAC to form British Airways.



TAP SCHEDULES UPDATED
TAP schedules have been updated significantly. TAP was formed as Portugal's flag carrier immediately after WW2 and began flying DC3's. In 1955 they purchased their first Lockheed Constellations and began service to more distant locations. In 1962 they acquired their first jet, the Sud Aviation Caravelle. HAG has been significantly increasing the number of Caravelle flights in Europe, and with TAP we are now one of the top Caravelle operators over the Continent.

BRITISH CALEDONIAN SCHEDULES UPDATED
Captain Henry Douglas has just finished his update of British Caledonian Airlines. Starting out as a private charter airline, Caledonian Airways merged with British United to become British Caledonian, one of the first non-government controlled airlines in the UK. BCC (or BCal) operated the BAC 1-11 with success. They also operated the B707, VC10 and DC10 during the 1970-1980 period on international routes. World economy changes and terrorist events caused significant losses on the international routes. Eventually, British Airways acquired BCal in 1988. Salute to Capt Douglas for all his hard work on our European routes.


AMERICAN DC10 SCHEDULES UPDATED
As part of our drive to improve the quality of flying at the Historic Airline Group, we've just updated the American Airlines DC10 schedules. American operated the DC10 to many destinations, and now the schedules better reflect that. Total AA DC10 flights more than doubled. For those of us who enjoy flying the heavies, you now have more options than ever at American!
EASTERN AIRLINES SCHEDULE UPDATED

REVISED
We just updated the Eastern Airline schedule. At first we looked at making corrections to a few errors, but the more we looked at it, the more we realized that such a historically significant air carrier like Eastern is just not represented well enough in our schedules. The result is a completely rewritten schedule, using timetables from 1950, 1958 and 1969. Today, the total number of Eastern Airlines flights has more than tripled! We even have L1011 flights into and out of LaGuardia. We like having so many classic airlines to choose from, but it doesn't mean a thing if you lack the historically correct routes to fly with them. At HAG, we believe in quantity and quality!


THE LEGENDARY BAC 1-11

In 1960 Hunting Aircraft, Vickers, Bristol and English Electric merged to form the British Aircraft Corporation (BAC). Hunting had been working on a design known as 107, while Vickers was looking at a scaled-down version of the VC10, the VC11. The designs were merged and the result was the BAC 1-11. Flight testing led to the development of the first stick shaker/stick pusher system, standard on all airliners today. She could carry 89 passengers at Mach .72 at 21,000'. The CAB blocked the sales in the US to Bonanza, Frontier and Ozark, but then American and Braniff made significant orders with better lawyers. This allowed Mohawk Airlines to enter the jet age. The BAC 1-11 first flew a year ahead of the DC9, and entered service in 1965. The -400 model was the US version with increased thrust, US instruments and larger fuel capacity. Two stretched versions were considered, but both relied on updated Rolls Royce engines that were quieter and more fuel efficient. However, Rolls Royce was in bankruptcy and the new version of the Spey never materialized. The BAC had a cost advantage over the DC9 and 737, but the lack of quieter, more fuel efficient engines proved to be the BAC 1-11's undoing. An excellent BAC 1-11 model is available at DM Flight Sim (click on the link on the right side of this page).

BOEING 707

Boeing has always taken their military designs and made civilian aircraft from them. Their early B307 shared wings and tail from the B-17. The Stratocruiser was the civilian version of the C-97/KC-97 tanker. While the Stratocruiser was a commercial disaster financially, Boeing did first use their "double-bubble" cross-section on it. When Boeing built the B-47 and was designing the B-52, the USAF needed a refueling aircraft that was better suited for the task at hand. Enter the Boeing 367-80. As development testing progressed, it had it's share of incidents. In May 1954, the left main gear failed due to a metal production failure. In August the hydraulic system failed to work properly and the airplane rolled into the grass, hit a cement block and the nose gear was demolished. Another incident involved overheated brakes that set the tires on fire after retraction. On another flight a wrench was left inside the rudder. The rudder experienced severe flutter (a separate issue), but the wrench jammed the rudder in the center position, saving the day, so to say. Did test pilot Tex Johnston roll the 707? Yes, in fact he did it twice during two fly-by's over a prestigious event in Seattle. It came to light later that production aircraft test flights for years always included an undocumented 360 roll, until a Lufthansa crew got it wrong and lost the airplane. On the day the DC-8 was being readied for it's maiden flight in Long Beach (30 May 1958), N707PA was doing a test flight nearby. Knowing what Douglas was doing, the crew asked for permission to do a fly-by over the airport. Approved, they flew a low approach, then blasted away on a smokey go-around, making several reporters assume the DC-8 was already flying. Later that day they were up again near Edwards AFB and, forgoing the scheduled tests, looked for and found the DC-8 on it's test flight. They flew up alongside for a few minutes, though their presence was never acknowledged. Finally, the first trans-Atlantic flights by PanAm in the 707 were not non-stop. Eastbound made a fuel stop in Gander, Newfoundland, and westbound flights stopped for fuel in Shannon, Ireland. It wasn't until the 707-320 series appeared in 1959 that non-stop flights to Europe could begin.

SCHEDULES UPDATED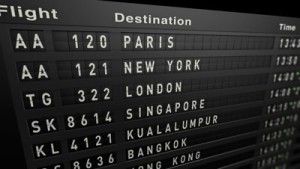 We just updated the schedules for Finnar (FIN), Austrian (AUA) and Olympic (OAL). Corrections to exsisting routes were done, correcting errors and ensuring routes did not dead end anywhere. Also, new aircraft and routes were added as needed to better represent the airline over a wider spectrum of time. Look for more updates in the future. Special thank you and Well Done to Capt Henry Douglas for his hard work.

SINGAPORE AIRLINES JOINS HAG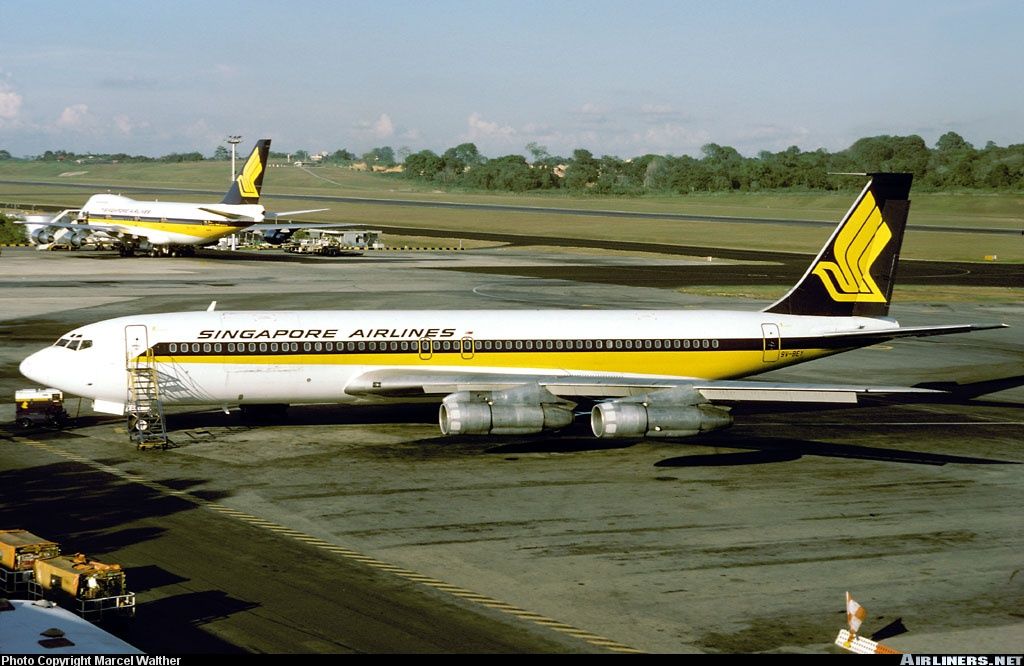 We wanted to expand our coverage of the Asian markets, so we added Singapore Airlines (SIA). Singapore Airlines began in 1947 as Malayan Airways, later Malaysian Airways. In 1966 the name was changed to Malaysia-Singapore Airlines. The following year the first 707's arrived. In 1972 Singapore and Malaysia split and Singapore Airlines came into being. Almost overnight the airline expanded to include 727's, 747's and DC-10's. We have routes to Europe and throughout Asia with Singapore Airline's first jet. Look for us to add 747 routes in the future!


LUXAIR JOINS HAG

Today we welcome Luxair into the HAG group of airlines. Using the 1971 timetable, we have included Caravelle 6R flights from Luxembourg to Paris, London, Amsterdam, Rome, Athens, Dubrovnik, Ibiza, Rimini, Malaga, Monastir and Tunis. Luxair is the official airline of Luxembourg. Founded in 1948 as Luxembourg Airlines, the name changed to Luxair in 1962 when they began operating the Fokker F27. In 1967 they leased one Vickers Viscount, but it was written off less than a year later. It was replaced with their first jet order for the Sud Caravelle 6R. The Connies went away in 1969, and Luxair flew F27's and Caravelles until 1977 when the B737 arrived. Over the following years the Caravelles were gradually replaced with the 737.
AIR CANADA TO ATLANTIC CANADA

We just added increased service to the Atlantic Canada region, using Air Canada as the carrier with DC9, Q400 and SF340 aircraft. Using Halifax as the regional hub, we have added non-stop jet flights to Toronto, Montreal and Quebec City. Through service to Montreal via Air Canada Express goes through St John, Mocton and Frederiction. From St John we also have a route to Boston through Bangor. Enjoy the beauty of eastern Canada today!

PSA JOINS THE RANKS

Pacific Southwest Airlines began life as an intrastate carrier. Their growth was steady, with the key being numerous flights and short turn-around times (the same model that Southwest was created on). Being intrastate avoided many Federal hurdles as well. Founded in 1949 with a single DC3, they progressed through many different types, but the longest lasting was the 727. In 1970 the airline's were experiencing tremendous growth and airport space was at a premium. PSA felt that a larger aircraft could handle what would take two 727s to fly, so they ordered two L1011's. The first went into service in 1974 and was a disaster! It took an hour to turn around an L1011 whereas the 727 needed only 30 min. Business travelers preferred the more numerous flight choices the 727 provided. Seven months after their introduction, the two PSA L1011's were parked in the desert, less than a year old. The 727, which joined the fleet more than ten years earlier, soldiered on for over ten years more.


PEOPLE EXPRESS ADDED

In 1981 Don Burr and some friends from Texas Air left and founded People Express, the first of the truly no-frills airlines. They headquartered in Newark's old North Terminal at a bargin price, as Newark was trying to breathe life back into the old building. They began operations in April 1981 with a single leased 737. The fleet grew to include 22 737's, 50 727's and nine 747's. The 727's were all economy class with 185 seats. The 747's flew to California and Europe, with a First Class section. Fares were paid in flight like the Eastern Shuttle. People Express was the first airline to charge for checked bags. They charged for everything including sodas, nuts, coffee. In 1985 they bought Frontier, Britt and PBA, and began a new hub in Denver. The buying spree came at a price- in 1985 they had their first year with an loss instead of a profit. They added First Class sections to the 737/727's to attract more business flyers, for the majors were cutting their own costs to compete against PE. With the Frontier union issues and the high debt load, People Express began looking for buyers in 1986. Eventually, Don Burr's old airline, Texas Air, bought Frontier and PE separately and folded them into Continental. Our People Express flights include all of their destinations, and aircraft, including 727, 737 and 747.