In the beginning

In June 1955 the Douglas Aircraft Company launched the DC-8. Funded with its own money and only a few orders, Donald Douglas Sr bet the company on the DC-8, and though it took years to reach profitability, the end result proved Douglas still had what it takes to build commercial aircraft. With the launch of the DC-8 and B707, builders began looking at the short range market. Currently served by DC-3's and Convair 340's, the market demanded more capability as more and more people began to fly. More seats means lower fares, which means more customers. The airlines began moving their DC-6's and DC-7's to regional routes as jets replaced them. These four engine types were not economical on short runs, but options were available. The Caravelle was in use in Europe, but it had issues with economics. Turboprops like the Vickers Viscount and Lockheed Electra where very promising, but Boeing and Douglas knew the real market was jets, jets that were more economical than a DC-7 and able to serve short routes in a self sufficient manner. Airlines were in agreement, and preferred a new design. They considered the Caravelle an old design with jet engines, and a fresh new design was what the industry needed. When the BAC 1-11 appeared, Boeing and Douglas saw it as the new design they had been thinking of. It was time to make it happen.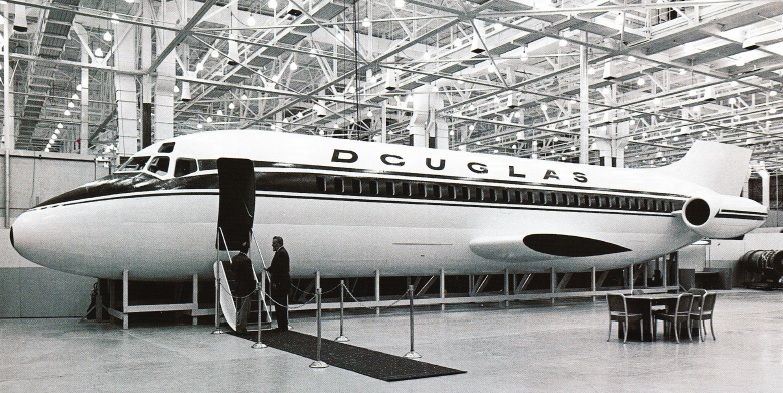 Donald Douglas Jr, now President of Douglas Aircraft, met with several airlines in January 1962 to propose the DC-9 project, or design 2086. While he had a basic design layout, he needed input from the customers to ensure the finished product was just what they wanted. Airlines wanted built in stairs so they wouldn't need airstairs at every location. They wanted starting ability from within, without the need for expensive air carts. They wanted operating costs around 1.2-2.2 cents per mile. Douglas completed a mockup in April, and naturally everyone compared it to the BAC 1-11. Dimensionally they were nearly identical, but the Douglas used the "double-bubble" design while BAC was circular. the DC-9 had more headroom and more luggage space. Improvements in design included using the same engines planned for the 727, the P&W JT8D-5. This simplified maintenance. It had a higher takeoff weight, a higher landing weight, and higher cruise speed. It also had one important feature to most airlines: Made in the USA. But money was tight. Boeing and Douglas were financially tied up with their 707/DC8 designs, and the airlines had just spent millions on those big jets. Douglas wanted 135 firm orders, but while many said they were interested, few came forward with firm orders. Donald Douglas Sr and his son hatched a unique plan. Parts builders would fund the work themselves in return for a pro-rated percent of the profits. This spread the risk to everyone in the program, and it worked. In April 1963 Douglas Aircraft Company formally announced the DC-9 program, with a first flight sc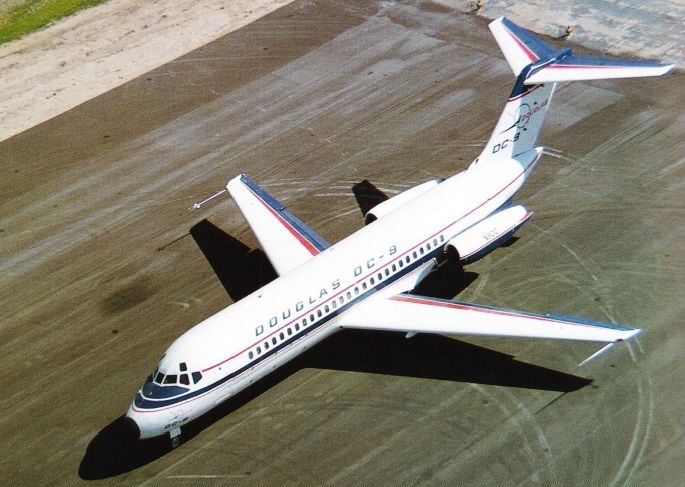 heduled for spring of 1965. To say this was risky at the time was an understatement. Only Delta had expressed an interest in buying the DC-9 design. Douglas knew that Canada was key to the program's success, and DeHavilland was awarded the manufacturing of the wings, tail and control surfaces, to be shipped by rail to Long Beach CA for assembly.
First Orders

First orders came from Delta, who ordered 11 aircraft over the telephone. Bonanza next ordered three. Dissapointment came when American, Braniff and Mohawk ordered the BAC 1-11. Production testing went quickly, for many systems were simply scaled down versions of existing systems in use on the DC-8. TCA ordered three, then the European market was cracked when KLM ordered six. Halfway through testing, in May 1964, Swissair ordered ten. The breakthrough came in July when TWA ordered 20 aircraft. Besides having better economics than the BAC 1-11, the DC-9 was always designed to be stretched, and this was an economic strong point. In January 1965, just before first flight, Eastern announced an order for 24 DC-9-20's, an improved design with higher weights and the new wing with leading edge devices. When the first flight took place well ahead of schedule and only two days after Eastern's orders, the order book stood at 85 firm orders and sixty options. Over the next few months, orders began to pour in. Along with fresh orders for the new DC-8 Sixty series, these were sunny days in Long Beach.
A breakthrough came in April 1965 when the pilots unions approved two-man crews and the FAA abolished any weight limitations on two man crews. This allowed current DC9-10 orders to be upgraded to higher takeoff weights. As the first aircraft were in their test flight phase, Douglas was already drawing up plans for the DC-9 30-series. Having lost "the Big One" (United Airlines) to Boeing's 737, the new 30-series was a direct competitor with the 737, and cost only $3.4 million. However the 30-series did have issues. Canadian production of the newer wing for the 30-series created problems with the parent company, who was now producing components for the British Trident. Douglas solved the issue by taking over wing production and leasing the factories in Canada. In November 1965, months ahead of time, the FAA awarded the DC-9 type certificate. Testing had shown performance figures were met and exceeded, sometimes by as much as 15%. First revenue service was by the launch customer Delta Airlines.
The 30-series went into production two years after the 10-series, with a 14' 9" longer fuselage compared to the 10/20-series. DC9 orders were at 374 when it first flew, including 233 30-series. This was followed by the 40-series, designed as a heavier version with a fuselage extended a further 6' 3". However only a few were built as Douglas took the design further with the 50-series. In 1972 DC-9 orders topped 700, 489 of which were 30-series. A 6' 4" extension ahead of the wing and 4' 9" extension aft of the wing created the DC-9 50-series, with seating capacity as high as 139, compared to the DC9-10's 79 seats. First flight took place in winter of 1974 with deliveries beginning in summer of 1975 with Swissair.
Mergers

In 1978 Douglas Aircraft Company found itself flush with orders, but production was lagging 9-18 months behind schedule, incurring huge penalties from customers. They merged with McDonnell to form McDonnell-Douglas. During this period, plans had been underway for the DC-9-55. This was changed to the MD-80, the newest airplane of the 80's. Longer than the 50-series by 14', the MD80 was launched in 1980 with great success. Several variations were produced including the MD-80, -81, -82, -83, -87 and -88 series, with seating of up to 167 in economy class, or 135 in a mix of First Class and Coach.
Production

DC-9-10/20 series: 147
DC-9-30 series: 621
DC-9-40 series: 71
DC-9-50 series: 96
C-9 Military series: 41
MD80 series: 1191