Heathrow International Airport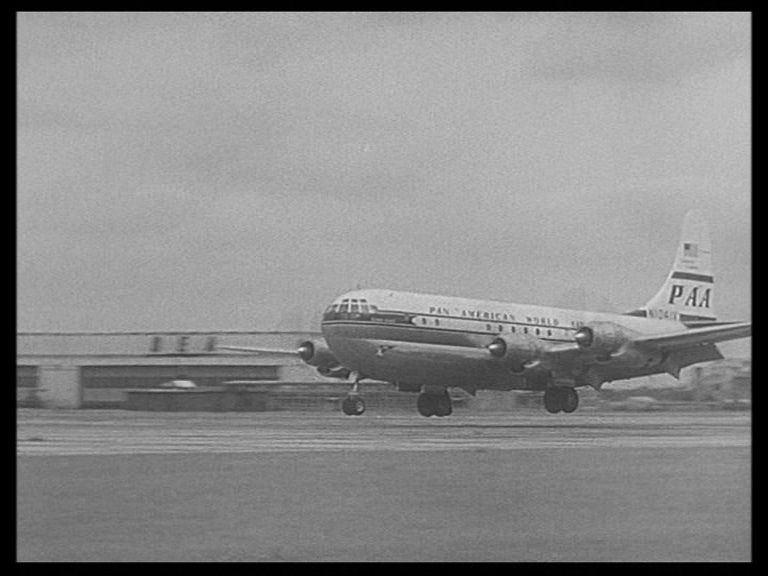 Heathrow was a hamlet, an isolated rows of cottages on the northwest of historic Harmondsworth, roughly where terminal 3 is today. The Harmondsworth name has been recorded since AD 780 when King Offa granted land to his servant Aeldred. Heathrow is Middle English for houses in a row. A Heath is an area of open land with low-growing woody vegitation. In 1915, Fairey Aviation started assembling and flight testing its aircraft from Northolt Aerodrome, located about six miles noth of Heathrow. In 1925, Norman Macmillan, an RAF officer, made a forced landing and take-off by Heathrow. He noted the flatness of the land and its suitability for an airfield. The land around was at the time used for market gardening.
In 1928 the Air Ministry gave Fairey notice to cease using Northolt, which had become a military installation. Fairey Aviation needed an airfield for flight testing, and Norman Macmillan, by then Fairey's chief test pilot, remembered the forced landing and take-off at Heathrow in 1925 and recommended the suitability of the area for an aerodrome. Macmillan flew aerial surveys of the site. In June 1930 the airfield was declared operational.
The airfield was first called Harmondsworth Aerodrome. Fairey planned to relocate its factory at Hayes to the site. The Harmondsworth Aerodrome was used for aircraft assembly and testing. Commercial traffic used nearby Croydon Airport, which was London's main airport at the time. The Royal Aeronautical Society held its annual garden party fly-ins at Harmondsworth Aerodrome, at the invitation of Richard Fairey. Fairey, who started in business with model aircraft, also allowed weekend use of the airfield by model aircraft clubs.
When World War Two came, the aerodrome was used by the RAF as a diversions airport. Ocassionally Hurricane fighters from RAF Northolt were sent to Harmondsworth Aerodrome when there was a threat of enemy attack on Northolt.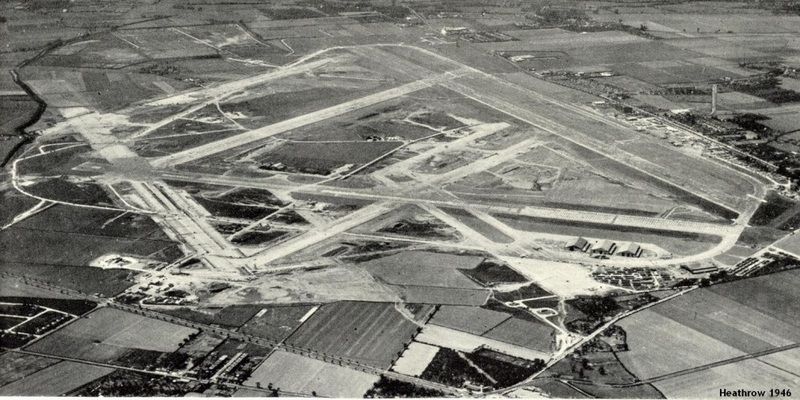 In 1943 the Air Ministry, headed by the Secretary of State for Air Sir Archibald Sinclair, secretly developed plans to requisition the airfield under wartime legislation. The plans were designed to suit the considerable needs of long-range bombers, such as USAAF Boeing B-29s, but they were actually based on recommendations from professor Patrick Abercrombie for a new international airport for London. Towards the end of the war the military assumed control of the airport from Fairey under wartime provisions, but as soon as the war ended it was turned over to the Ministry of Civil Aviation. This led to a court battle lasting over twenty years.
On 25 March 1946 Lord Winster, the Minister of Aviation, performed the official opening ceremony. The first aircraft to use the new airport was a British South American Airways (BSAA) Avro Lancastrian named Star Light.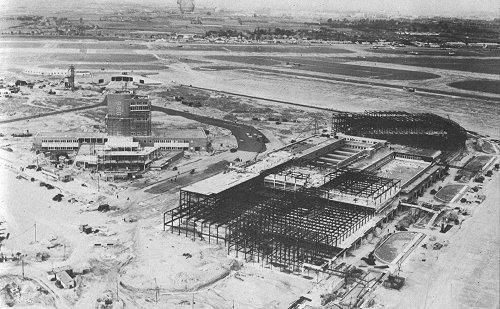 The passenger terminal was an area of Army tents and duckboarding next to the south side of the Bath Road. Three weeks later, the first aircraft of a foreign airline, a Panair Lockheed 049 Constellation, landed after a flight from Rio de Janeiro. BOAC's first scheduled flight was an Avro Lancastrian headed for Australia on a route operated jointly with Qantas. By now Heathrow runways formed a triangle consisting of runways 10/28 (9,200 feet long), 15/33 (6,300 feet long), and 5/23 (6,700 feet long). In the early 1950s three more runways were completed to make a rough hexagram arrangement within which two runways would always be within 30° of the wind direction.
By the end of 1953, passenger traffic reached 1 million, with a total of 62,000 flights completed over the year. In 1955 a new 127 ft control tower opened to replace the original 1940s tower. At the same tie, a proper terminal building was completed and named Building 1 Europa. One year later a second central terminal building (linked to Building 1) was named Building 2 Britannic.
In 1961 runway lengths had been extended west to 11,000 ft. A third building, Building 3, was opened to handle long-haul flight departures. In 1966 London Airport is renamed Heathrow International Airport.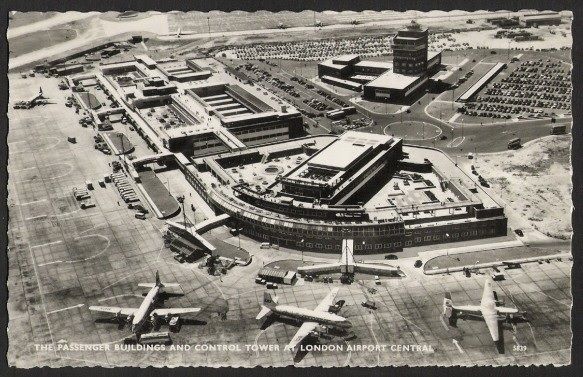 In May 1968 the centrally-located terminal complex began a major renovation, as Heathrow had grown to 14 million passengers annually. A new terminal, Terminal 1 opened. The old Buildings 1 & 2 were renamed Terminal 2. However even this was only a start, as the location of the original terminals in the center of the site subsequently became a constraint on expansion. Building Three became the international long haul Terminal 3. The cargo terminal was built to the south of the southern runway, connected to Terminals 1, 2 and 3 by the Heathrow Cargo Tunnel.
Terminal 3 was expanded with the addition of an arrivals building in 1970. Other new facilities included the UK's first moving walkways. Heathrow's two main east-west runways, 10L/28R and 10R/28L (later redesignated 09L/27R and 09R/27L) were also extended to their current lengths to accommodate new large jets such as the Boeing 747. The other runways were closed to facilitate terminal expansion, except for Runway 23, which remained available for crosswind landings until 2002.
By the early 1980's, annual passenger numbers had increased to 30 million, and required more terminal space. As a result, Terminal 4 was constructed to the south of the southern runway and became the exclusive home of British Airways. Capacity was increased to 55 million passengers though traffic quickly grew to over 70 million. At one time Heathrow was voted the least desirable airport along with Chicago's O'Hare. In response, construction of Terminal 5 began. Runway 23, a short runway for use in strong south-westerly winds, was decommissioned. It is now part of a taxiway. In 2005 the Eastern Extension of Terminal 1 opened. In April 2007 a new 285 ft high air traffic control tower entered service. The original 1950s red-brick control tower was demolished in early 2013 to enable access roads for the new Terminal 2 to be laid. In 2008 Terminal 5 opened to passengers, the old Terminal 2 closed, and five years later the new Terminal 2 opens to passengers.
In October of this year Terminal 1 will be closed and later demolished in order to allow a second stage of Terminal 2's expansion. (Below, left to right: Terminals 5A-5B-5C, Terminal 4, Terminal 3)