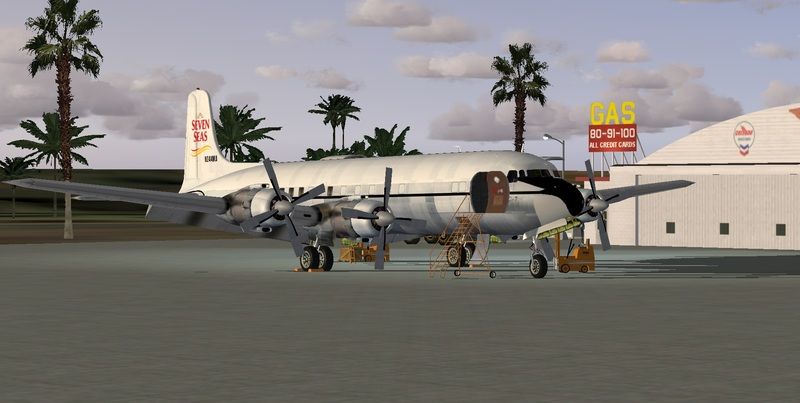 Seven Seas Air Cargo (SSAC) was created by HAG to bring cargo flying to many regions where cargo flights are difficult to historically document. We love classic aircraft and freight is rich in the classics. However there were hundreds of freight carriers over the years, so rather than add all of them in order to get the planes and routes we like, we have simply created our own carrier and brought the classics to us.
Seven Seas began operations in Miami and San Juan, flying cargo to local Caribbean destinations with a Twin Beech D18S. Soon after we added a Piper Chieftain. As we expanded routes we added a larger freighter, the popular Convair 340. Not to much faster than the D18S or PA31, the Convair could carrry a substantially greater load.
Seven Seas continued to expand and many of the goods carried on these types of flights are time sensitive, especially bread and dairy products. So we added a DC-6BF, a DC-7BF and an L1049G. These larger aircraft brought greater capacity and longer range to our business. Later we added a DC9-30 series for the speed it brought to our more perishable goods. The DC9 could quickly deliver a wide variety of goods from Miami to almost anywhere in the Caribbean.
Growth continued as did demand in other markets. We added a DC8-51 that could fly nonstop to South and Central America. We contracted with UPS and began operating the DC-8 on UPS routes across the USA. Business was booming and we added the DC8-63F, a 727-100F and 727-200F to increase capacity.

A year later we expanded beyond the Caribbean to the South Pacific. With a hub in Brisbane, we started with a B727 to seven South Pacific destinations.
Our move to European markets saw the creation of a freight hub in Lisbon. From here we fly to many European destinations. We also began service to Africa from Lisbon. We operated the DC8 from Miami to Lisbon inititally, but later added the DC10-30F and the 747-200F.

Today SSAC aircraft can be found all over the world operating on many freight ramps. We also contract with many carriers for additional lift, like Kalitta, Trans International and World Airways. We allow you to substitute a Seven Seas aircraft for a similiar aircraft from the contract carrier. With our varied fleet we can choose the aircraft best suited for the load, maximizing profits. In the near future we hope to add a random freight generator that will designate a route and a load, allowing the pilot to choose the aircraft best suited. At the Historic Airline Group, we know freight!