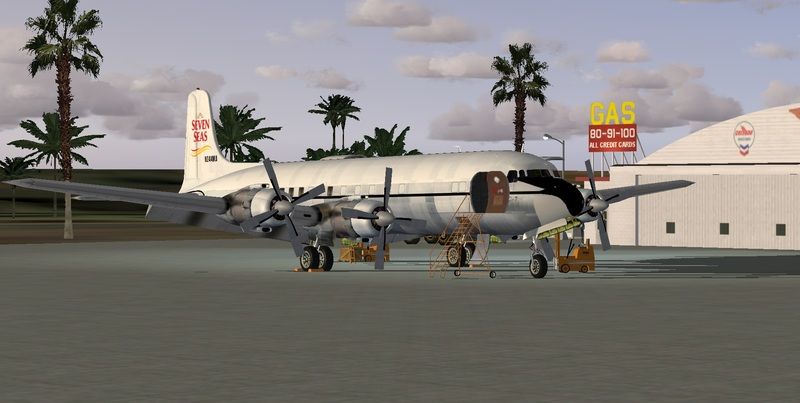 Seven Seas Air Cargo (SSA) was created by HAG to bring cargo flying to many regions where cargo flights are difficult to historically document. We love classic aircraft and freight is rich in the classics. However there were hundreds of freight carriers over the years, so rather than add all of them in order to get the planes and routes we like, we have simply created our own carrier and brought the classics to us.
Seven Seas began operations in Miami and San Juan, flying cargo to local Caribbean destinations with a Twin Beech D18S. Soon after we added a Piper Chieftain, which were popular for carrying freight around the world.as we expanded routes we added a larger freighter, the popular Convair 340. Not to much faster than the D18S or PA31, the Convair could carrry a substantially greater load.
Seven Seas continued to expand and many of the goods carried on these types of flights are time sensitive, especially bread and dairy products. So we added a DC9-30 series. The DC9 could quickly deliver a wide variety of goods from Miami to almost anywhere in the Caribbean.
Growth continued as did demand in other markets. We added a DC8-51 that could fly nonstop to South and Central America and brought service to Atlanta. With this variety of aircraft we could use whichever was best suited depending on the load to be carried. With this in mind, a DC7-BF, L749F and L1049GF were added.
This summer we expanded beyond the Caribbean to the South Pacific. With a hub in Brisbane, we operate a B727 to seven South Pacific destinations, including a sub-hub in Port Moresby.
Future plans- Routes. We expect to add some cargo routes in Alaska, where DC8's bring cargo up to Anchorage and smaller types fly to local destinations. We would also like to expand into Australia, Europe and Africa. Eventually the South Pacific division will probably expand into Southeast Asia.
Futrue aircraft- While the current inventory is adequate for our needs, we will probably be adding a few more types. A DC8-63 or a B747 can connect our markets well. Smaller aircraft have a good future with us as well. We will add a Metroliner and Cessna 402C when goodmodels become available. And yes, we will be adding the DC3 soon, probably in Alaska and Africa.
Future Fun Stuff- I would like to add a random flight generator at some point so you can "spin the dial" and get a random trip assignment. It would be cool if we could set variables, such as spinning for only DC7 flights, or flights under an hour. I'd also like to add a random load generator so you can better plan your flights as we do in the real world. All of these things are possible, just not within my technical expertise (which is quite limited). If anyone out there has experience in this field, I'd love to bring you in as part of our R&D team!